How to add discount code to your purchase?
Customers can add the Promotion code when checking out on our website.
The 'Add reference code' button is right under the 'Total billed now'.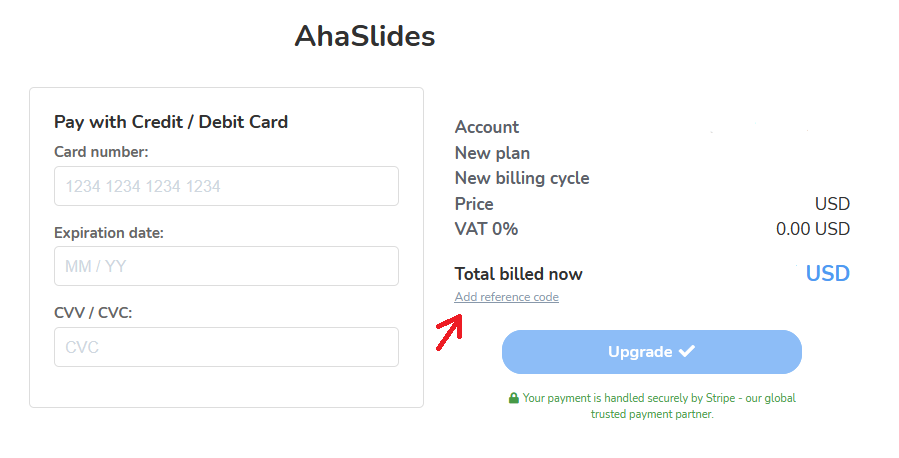 Thanks for reading this article!
Related Articles

What Payment Methods are Accepted at AhaSlides?

AhaSlides accepts debit cards, credit cards and PayPal. For debit cards and credit cards, the upgrade process is automatic and happens with immediate effect. Your payment is handled securely by Stripe - our global trusted payment partner.

What currencies can be used to purchase?

AhaSlides accepts USD, however when you make your payment with an international card, your bank will automatically convert it to your currency. The rate will depend on your bank.

Receipt

AhaSlides is now allowing customers to see and download receipt (paid invoice) right on our website. ​ Once you have made your purchase for AhaSlides using your credit card, your receipt will be sent to your email address. You can also access your ...

Cancelling your AhaSlides Subscription

Find out how to turn off the auto-renewal of your subscription. The Monthly plan will renew automatically after 1 month. We will send you a reminder email 2 weeks before your subscription is renewed. You can turn off auto-renewal anytime on ...

What is Included in the Free Account?

AhaSlides is free for as long as you like. Find out what's included and trial most of the features, for free! If you sign up to an AhaSlides free plan, you'll have access to the following features: Unlimited question and quiz slides - You can create ...