Resetting the Results / Clearing the Responses
If you've downloaded a template with example responses or want to reuse your presentation with a new audience, there are 4 easy ways to clear the responses.
1. From the presentation canvas - Click the Clear responses button below the slide.


2. From inside the editor - Head to the Results tab in the top bar and scroll down to Clear audience responses. Click the button labelled Clear responses to remove audience responses.


3. Clearing responses on each slide - Right-click on the slide you want to erase the responses, then click Clear result.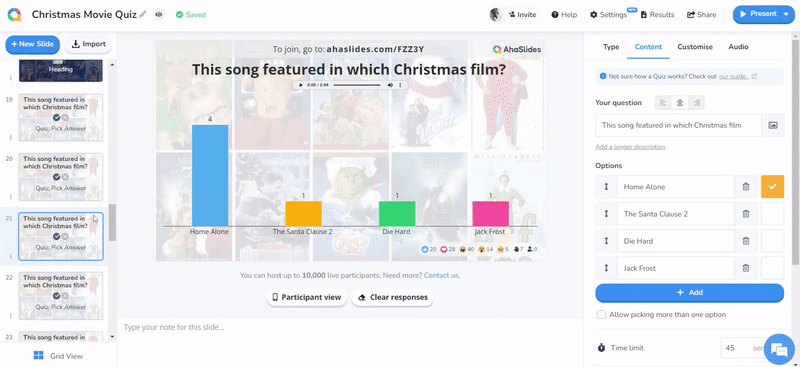 4.
From the 'My Presentations' dashboard -
Click on the 3 dots icon to the right of your presentation information and choose
Clear
responses
.

Related Articles

Sharing a Presentation with other AhaSlides users

With AhaSlides, you can share your presentation with other users and they can copy that presentation to their account. ​ In order to do this, head to the presentation editor. In the Share tab in the top bar, you will find a link under the ...

Exporting to Excel

After the quiz, you can export your data to Excel. This means you can map which answer each participant has chosen/submitted. How to export results to Excel? To do this, locate the 'Results' tab on the slide you would like to export. There, under ...

Exporting to PDF / JPG

With AhaSlides, you can export screenshots of your slides into a single PDF document or a set of JPG images. ​ How to export your presentation to PDF / JPG? Locate the 'Results' menu on the slide you would like to export. There, under the 'Export to ...

Your Presentation Report

Your presentation report gives you instant feedback on how your participants engaged with your presentation. When at least one person has interacted with your presentation, you'll be able to see a report of the following: 1. The emoji reactions ...