Resetting the Results / Clearing the Responses
If you've downloaded a template with example responses or want to reuse your presentation with a new audience, there are 4 easy ways to clear the responses.
1. From the presentation canvas - Click the Clear responses button below the slide.


2. From inside the editor - Head to the Results tab in the top bar and scroll down to Clear audience responses. Click the button labelled Clear responses to remove audience responses.


3. Clearing responses on each slide - Right-click on the slide you want to erase the responses, then click Clear result.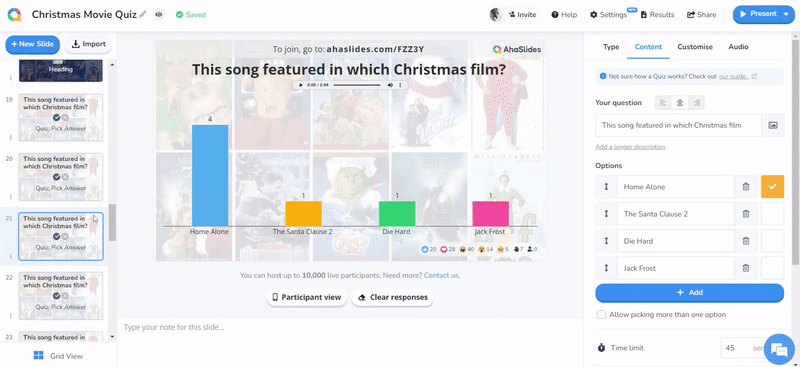 4.
From the 'My Presentations' dashboard -
Click on the 3 dots icon to the right of your presentation information and choose
Clear
responses
.

Related Articles

Exporting your Presentation Data

Once you've hosted your presentation, you can export your response data to Excel or export your slide images to PDF/JPG. This feature is only available on AhaSlides' paid plans. Please note that exporting your presentation is different to sharing a ...

Sharing a Presentation with Other AhaSlides Users

With AhaSlides, you can share your presentation with other users and they can copy that presentation to their accounts. ​ In order to do this, head to the presentation editor. In the Share tab in the top bar, you will find a link under the ...

Publishing a Presentation to the Template Library

You can publish your own presentations for public use in the Template Library. You can also browse the Template Library to download others' published presentations. Publishing a Presentation to the Template Library By publishing your presentation to ...

Your Presentation Report

Your presentation report gives you instant feedback on how your participants engaged with your presentation. When at least one person has interacted with your presentation, you'll be able to see a report of the following: 1. The emoji reactions ...