Screen Sharing AhaSlides with Zoom

You can share your screen on Zoom to host your AhaSlides presentation to an online audience.

Please note that AhaSlides does not have an official integration with Zoom on the Zoom App Marketplace.

Open your AhaSlides presentation.

Host

or join a Zoom meeting.

In the meeting, click the 'share screen' button.
Select the window with AhaSlides open and click 'Share'.

Click 'Present'.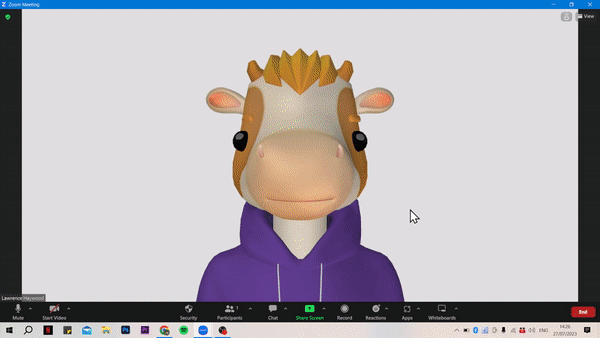 Tips:
Do a dry run before going live to remove any difficulties you may encounter.
Close all other tabs apart from AhaSlides and Zoom to improve loading speed.
Related Articles

Sharing a Presentation to your Participants

In order to get your participants to start submitting responses to your slides, you need to share the presentation with them. There are two ways to do that... A unique URL (AKA 'access link' or 'access code') that participants type into their phones. ...

How to integrate AhaSlides into your WebEx meeting

Use Cisco Webex to integrate AhaSlides into your conference call to deliver an engaging and interactive presentation. How to integrate AhaSlides to WebEx 1. Once you have set up your conference call on Webex, start your meeting in the Webex app 2. ...

AhaSlides App for Hopin

What is Hopin? Hopin is virtual event software that lets you host online workshops, conferences, webinars and other business events in real-time. In the Hopin app store you can install AhaSlides as an app to use directly from the platform. What do I ...

Using Backstage while presenting on AhaSlides

Backstage mode allows you to control your presentation from a window your audience can't see. As the presenter, you can see upcoming slides and your slide notes separate from your audience. Presenting with Backstage To start presenting with ...

Turning on private mode for your presentation

Here you can turn on or off the ability for your audience to interact with your presentation. It's best to keep things in private mode when you're editing and public mode when you're presenting. How to turn on Private mode for your presentation? ...