Setting up a Self-Paced Quiz on AhaSlides
Find out how your audience can play an offline quiz in their own time.
Choosing the self-paced setting lets your audience proceed through a quiz (as well as any other slides in your presentation) without a host.
This is great for teachers who want to assign a quiz as homework, and for quiz masters who want to give their players freedom to complete a quiz at a time that suits them.
How to turn on Self-paced mode

On the presentation editor, head to the Settings menu
Click on Who takes the lead
Choose Audience (self-paced)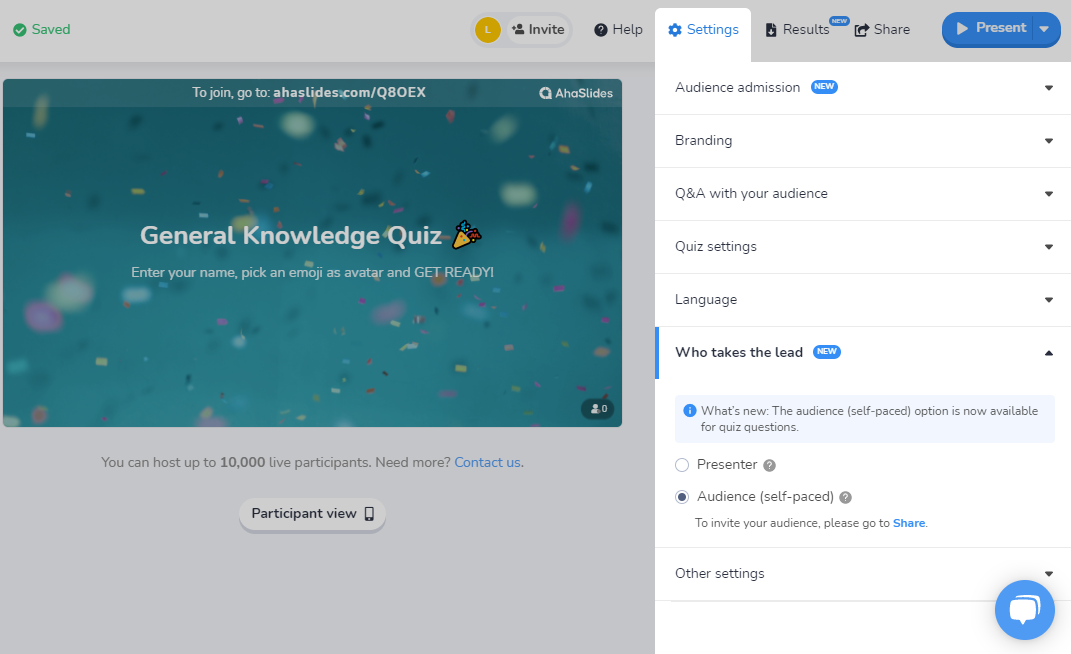 Protip 💡 Remember to set your presentation to public mode first before sending your quiz out to participants. You can always set it back to private mode whenever you want by pressing the eye icon beside your presentation title.

Related Articles

How to Censor Inappropriate Names on a Quiz

You can manually censor an individual quiz player's name without using the profanity filter. The 'profanity filter' setting catches and censors most English profanities entered by participants on AhaSlides. Still, there might be other inappropriate ...

Using Backstage while presenting on AhaSlides

Backstage mode allows you to control your presentation from a window your audience can't see. As the presenter, you can see upcoming slides and your slide notes separate from your audience. Presenting with Backstage To start presenting with ...

How to Award and Deduct Extra Points on an AhaSlides Quiz

With AhaSlides' points score adjustment feature, you can now spread the love amongst players! It's a neat little ingredient to spice up any quiz and to give you control over bonus rounds and player behavior. Awarding or Deducting Quiz Points on ...

Using Audience Authentication

The audience authentication feature lets you give out passcodes to your audience. Each audience member enters their individual passcode to join your presentation. This is especially useful for ticketed events. Please note that this feature is only ...

How to integrate AhaSlides into your WebEx meeting

Use Cisco Webex to integrate AhaSlides into your conference call to deliver an engaging and interactive presentation. How to integrate AhaSlides to WebEx 1. Once you have set up your conference call on Webex, start your meeting in the Webex app 2. ...