The AhaSlides app for Microsoft Teams allows you to run an interactive AhaSlides presentation within your Teams call. Your audience does not need to 'join' your presentation as they will be able to respond to it live, directly from Microsoft Teams.


Please note that AhaSlides add-in has been developed for the
Microsoft Teams desktop app
. Please
download
and use the desktop app for the smoothest experience with your audience.
How does it Work?

The presenter embeds their AhaSlides presentation into the call and shares their screen to show it to their audience.

The audience simply join the call and submit their responses directly to the presenter's AhaSlides presentation using an embedded 'response screen' on their interface.

Like with any presentation on AhaSlides, you will run each slide for your audience in your Microsoft Teams call and they will respond live. Their responses will be collected and shown on the presentation that you are screen sharing.

This is how it looks for your audience 👇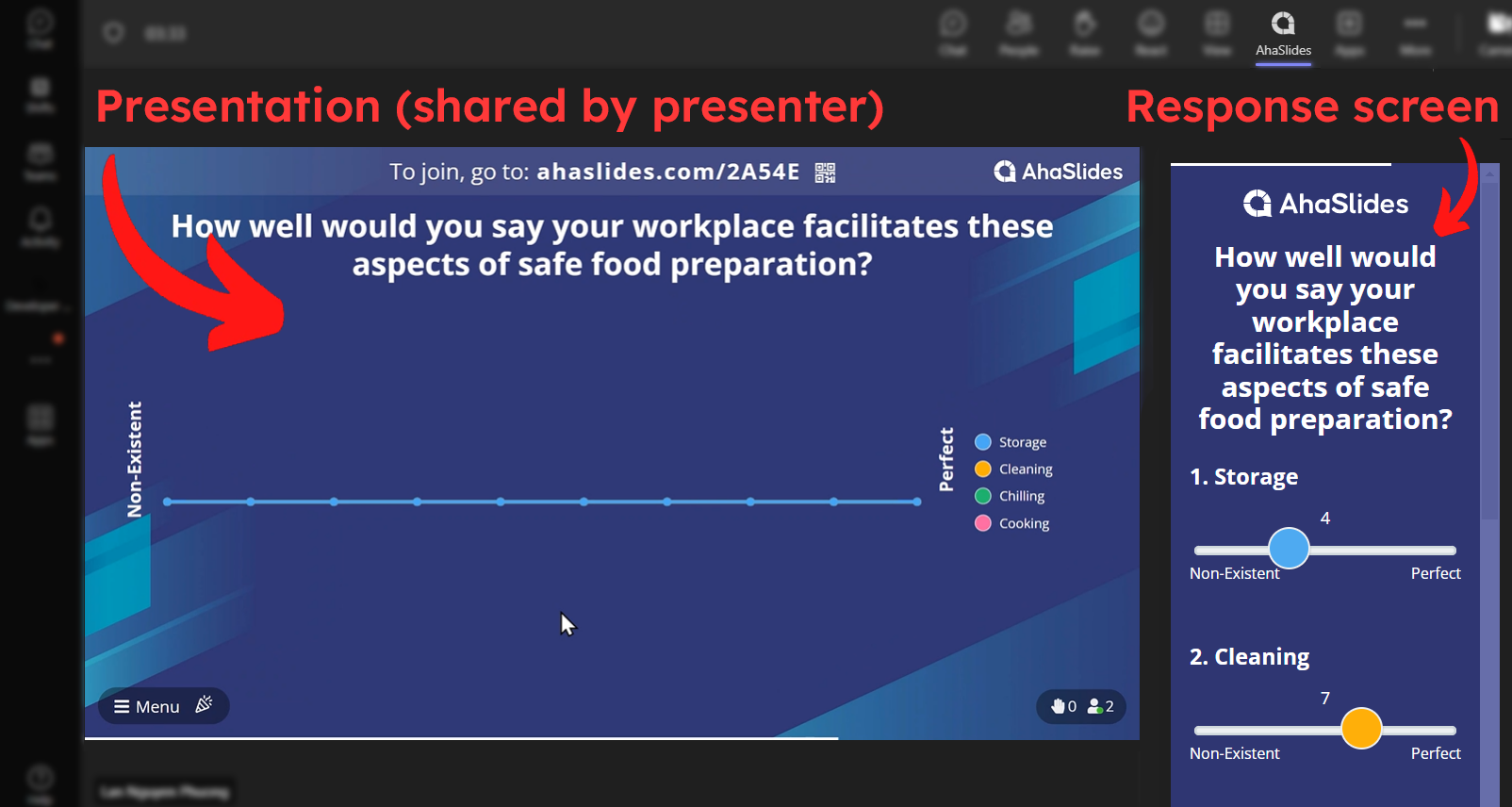 The Setup

Step #1: Downloading the AhaSlides add-in and selecting a presentation to add

On your Microsoft Teams dashboard, click Apps in your left side bar. Type AhaSlides into the search bar and select AhaSlides from the search results.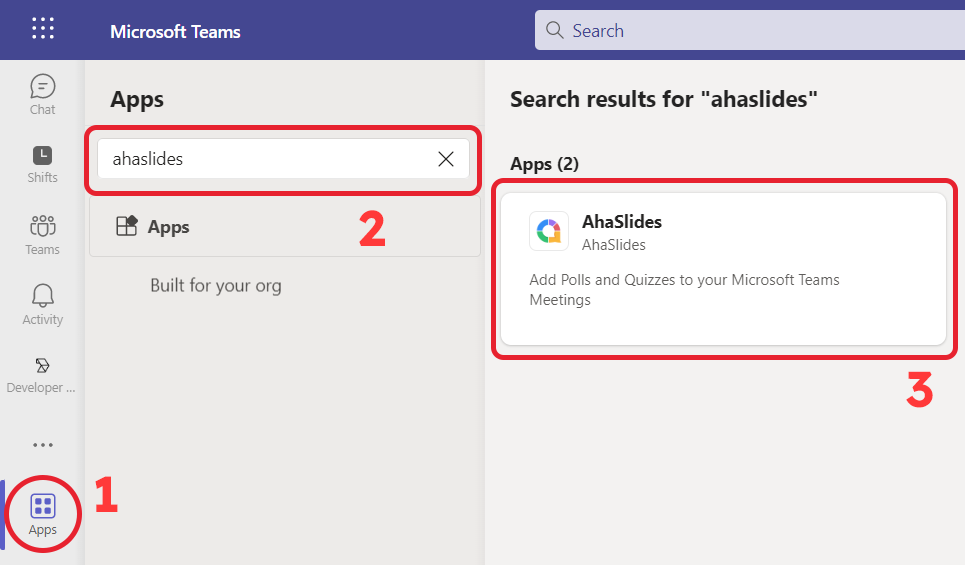 In the pop-up window, click the purple dropdown menu and select Add to a meeting.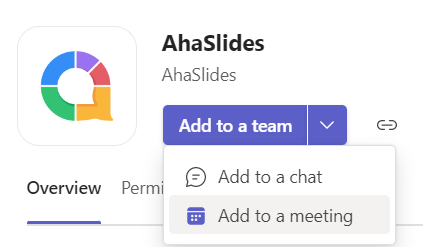 In the search bar, type in the name of your meeting and select it from the dropdown list. Then, click the button labelled Set up a tab.

Please note that you need to have a future meeting scheduled for it to appear in the dropdown list.


In the next pop-up window, sign into your AhaSlides account. You'll be taken to another window containing your AhaSlides dashboard. Select the presentation you would like to host in your meeting, then click the Save button.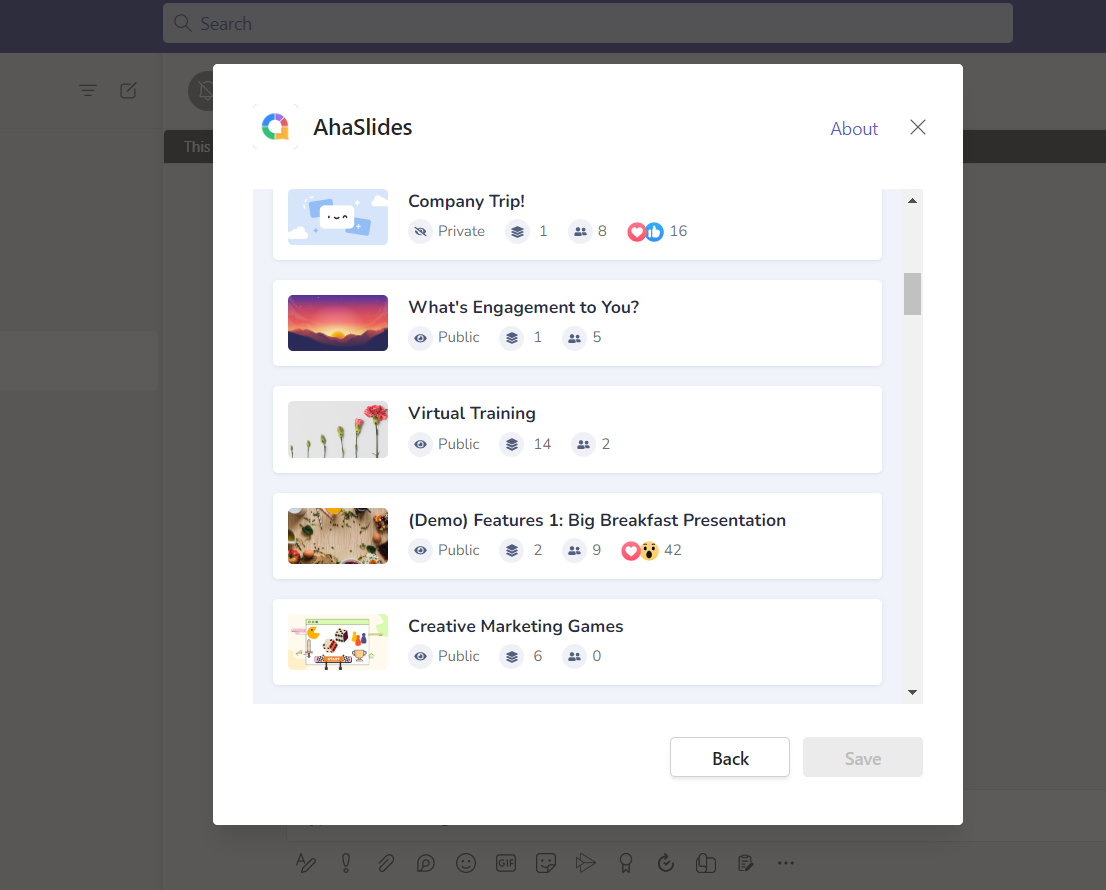 Step #2: Presenting your AhaSlides presentation

Your presentation will appear on Microsoft Teams in Present mode. Simply c
lick the purple
Join
button in the top bar to join the call.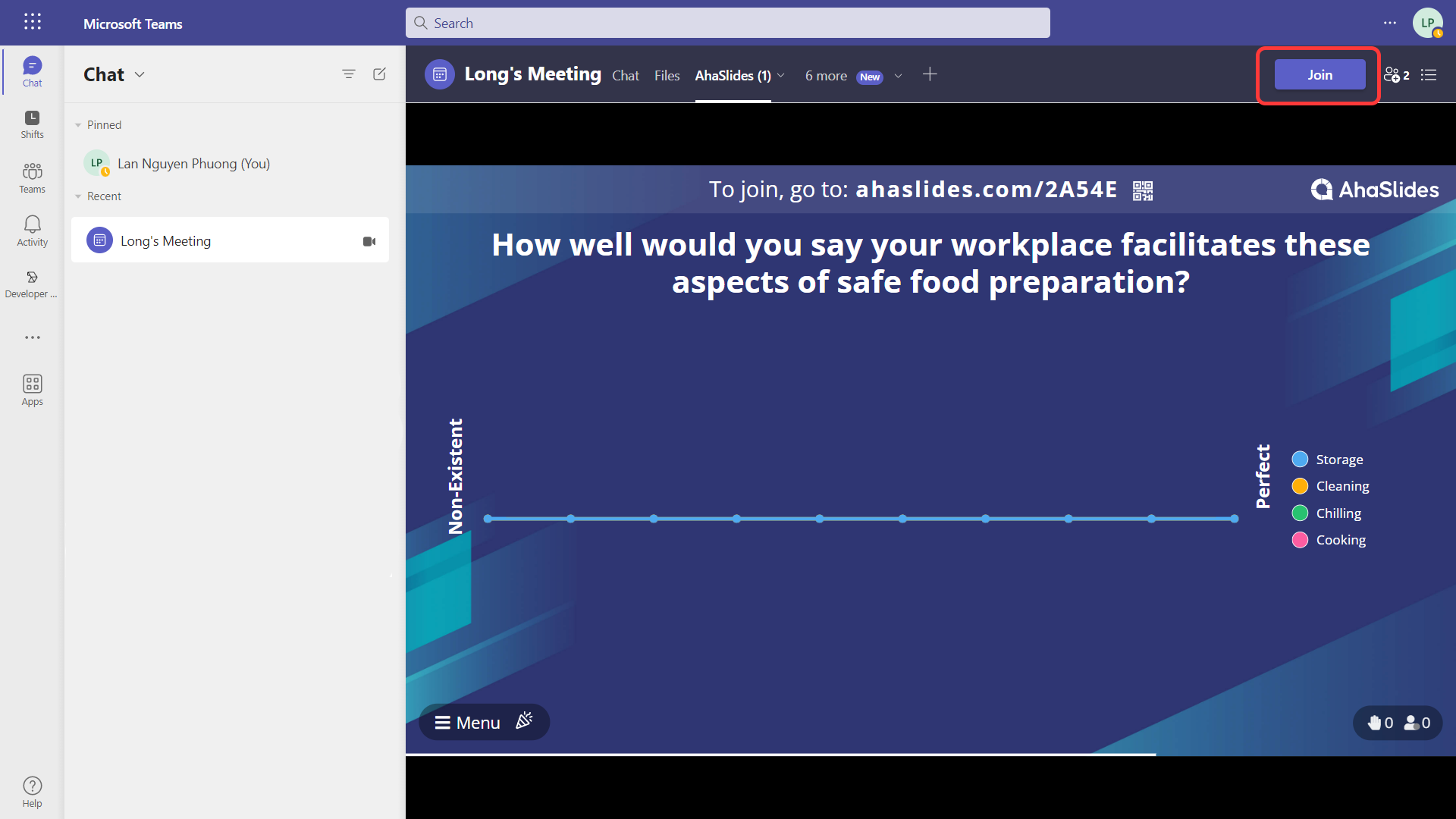 After selecting your camera and audio settings, click
Share
and select 'Screen'.
This minimises your video conference window and presents your screen to your audience.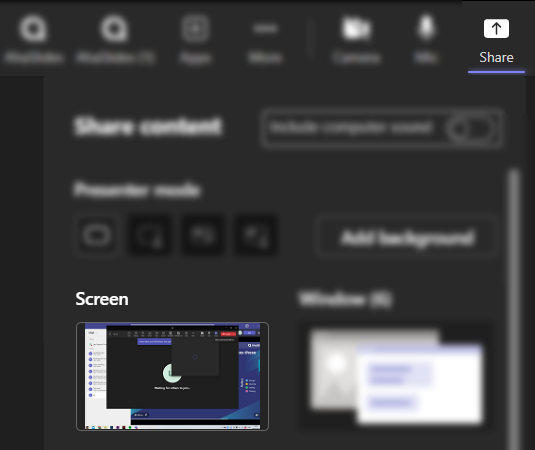 Back on the Microsoft Teams 'chat' screen, the final step is to select the menu on the bottom-left corner of your AhaSlides presentation and click Switch to full screen. This way, you can present your presentation the same way that you would on AhaSlides.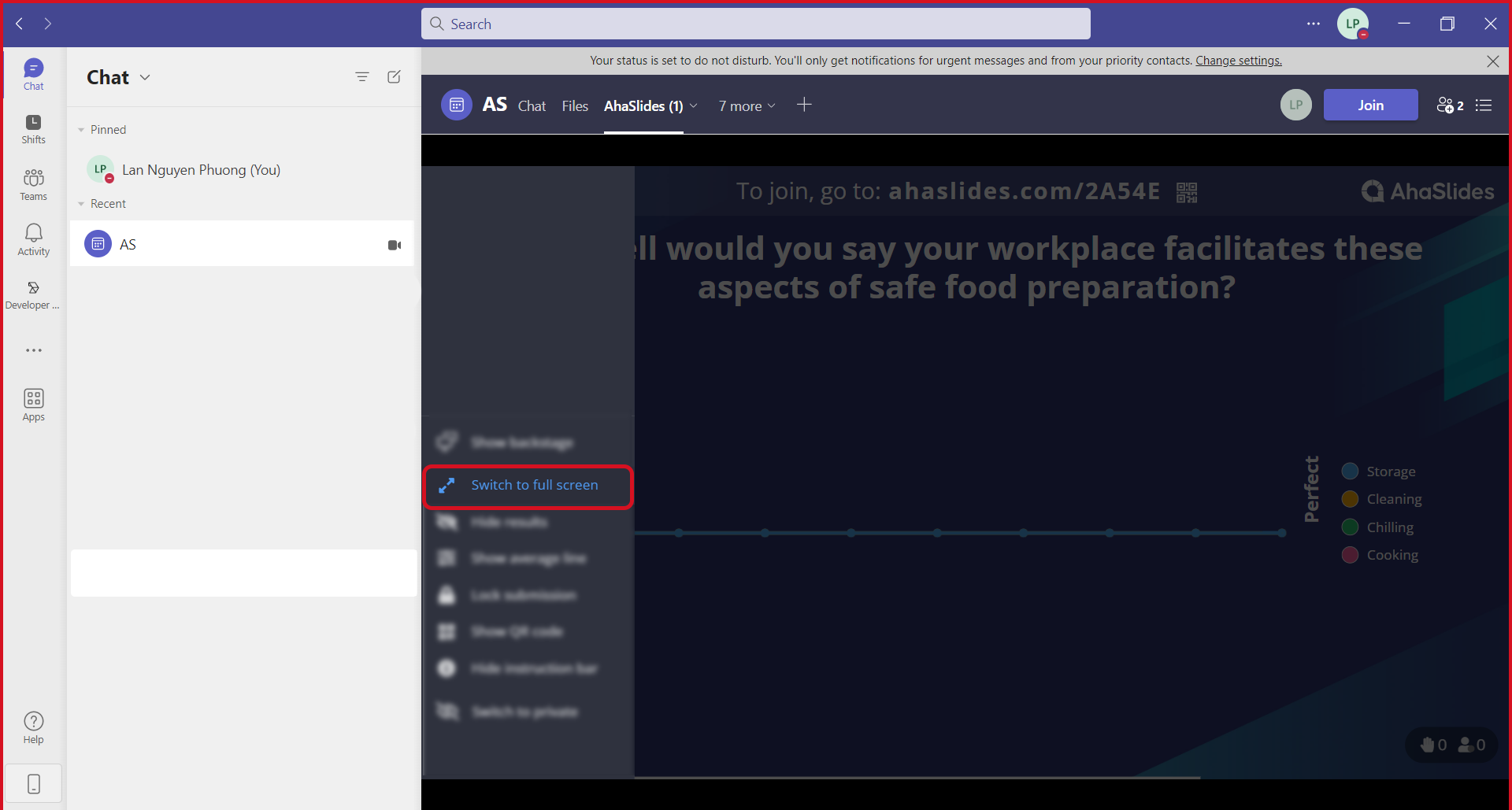 Once you've done this, you're ready to go. Invite your audience to the call and wait for them to arrive.

What your Audience does
Once an audience member has accepted your invitation to join the call, they simply have to click the AhaSlides icon in their top toolbar.


The 'response' screen will appear on the right side of their interface. With that, they will be able to respond in real-time to the slide you are currently presenting.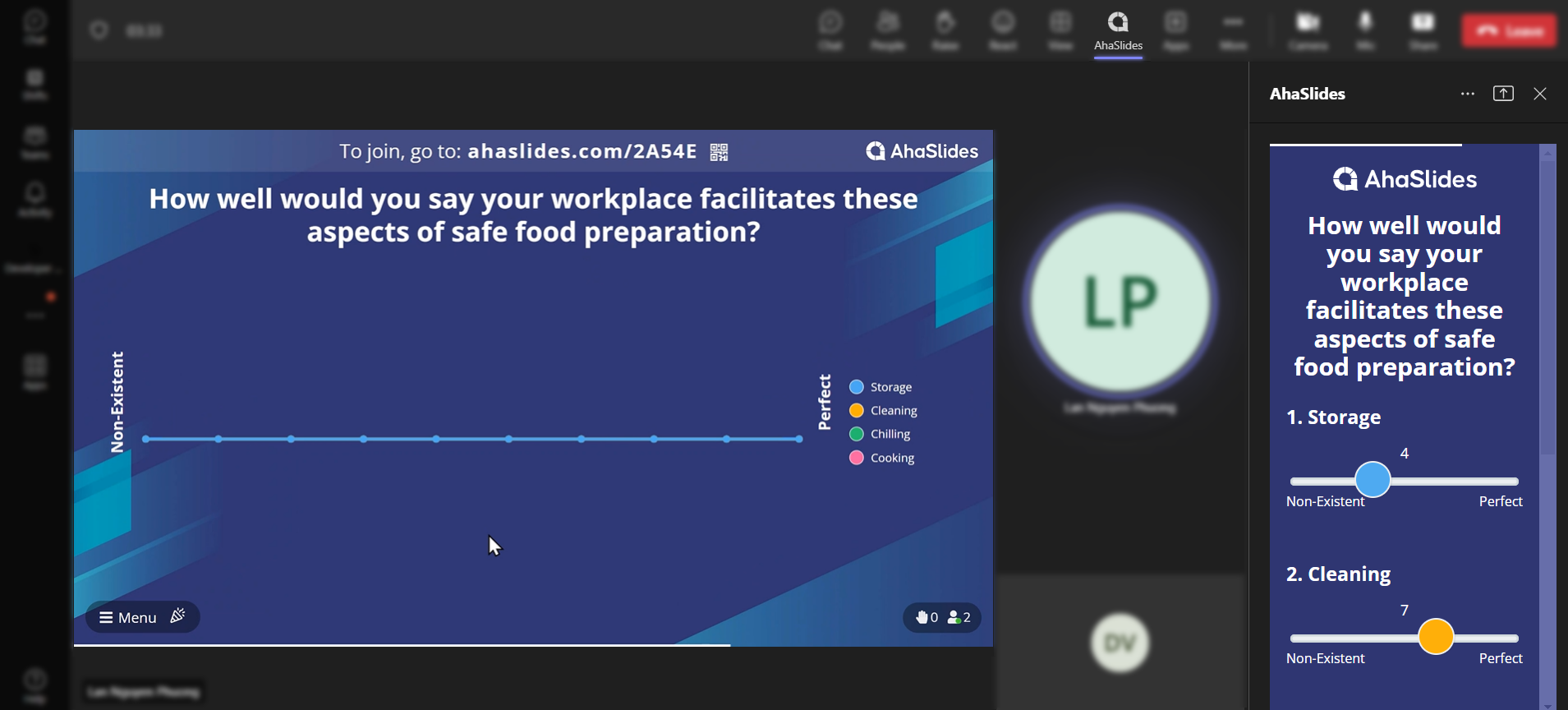 You progress through the your presentation as you usually would and your audience will be able to respond to each slide using the response screen.
Alternative: Sharing your Screen on MS Teams

An alternative way to use AhaSlides in your Microsoft Teams presentation is by simply sharing your screen. This requires no download and very minimal setup, though users will need their own phones on hand to join your presentation and respond to your slides.

On your MS Teams meeting, click 'Share' in the top-right of the toolbar, then choose whether to share your entire screen or just the single window containing your AhaSlides presentation.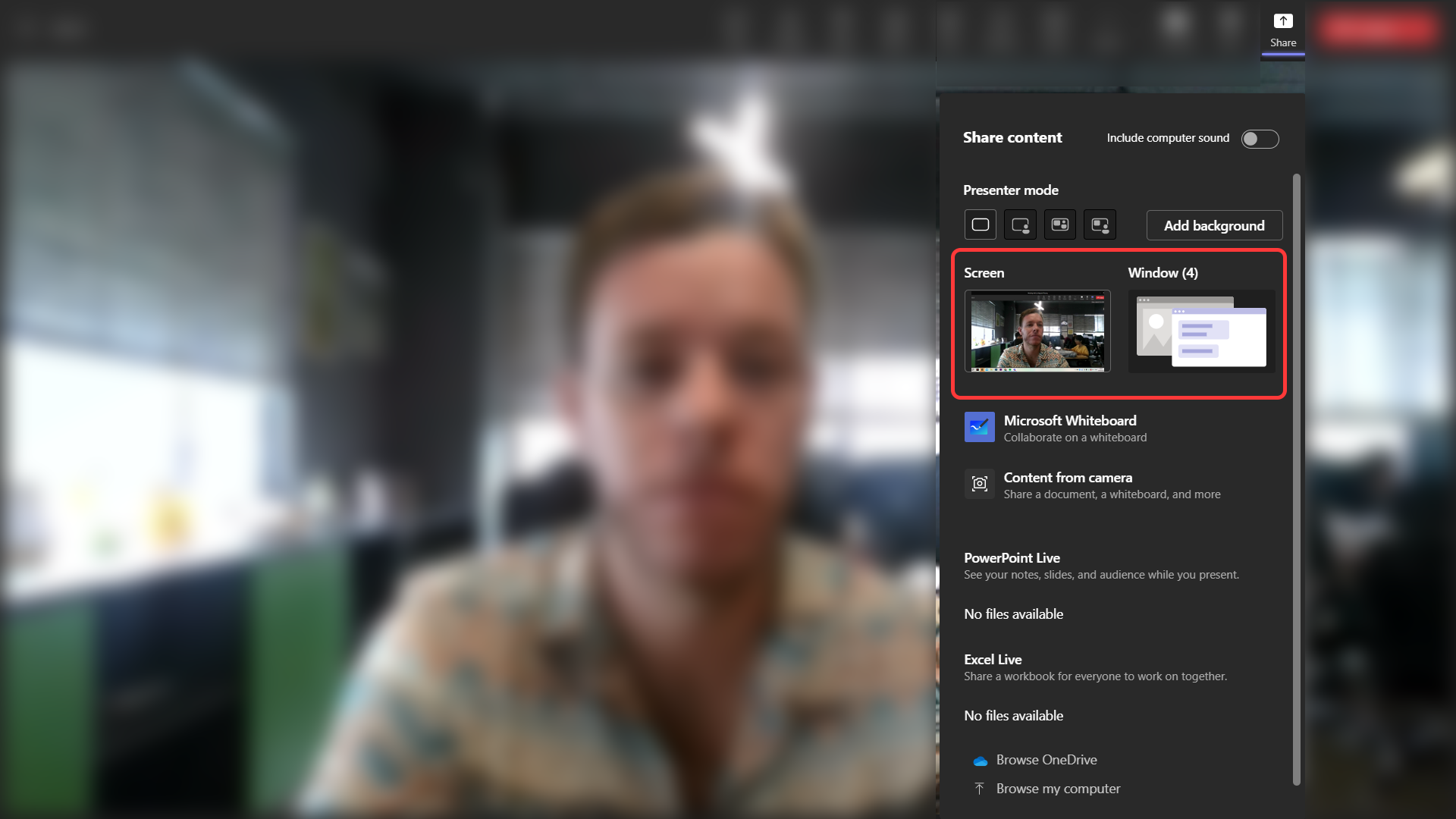 On your AhaSlides presentation, click 'Present' to start presenting to your audience.