Educational Subscriptions

If you're a teacher, student, NGO or plan to use AhaSlides in some educational capacity, you can claim an Educational Plan at a discounted rate. These plans are all billed annually.

Where to Find the Educational Plans

Head to the Pricing page.

Scroll to below the pricing table.

At the end of the sentence about 'Educational Plans', click Learn More.



You will be redirected to a table outlining the pricing and main features of each Educational Plan.
Click the 'Get started' button on the plan you wish to purchase.

To return to the original plans, click the blue sentence in the top-right corner called Back to non-educational plans.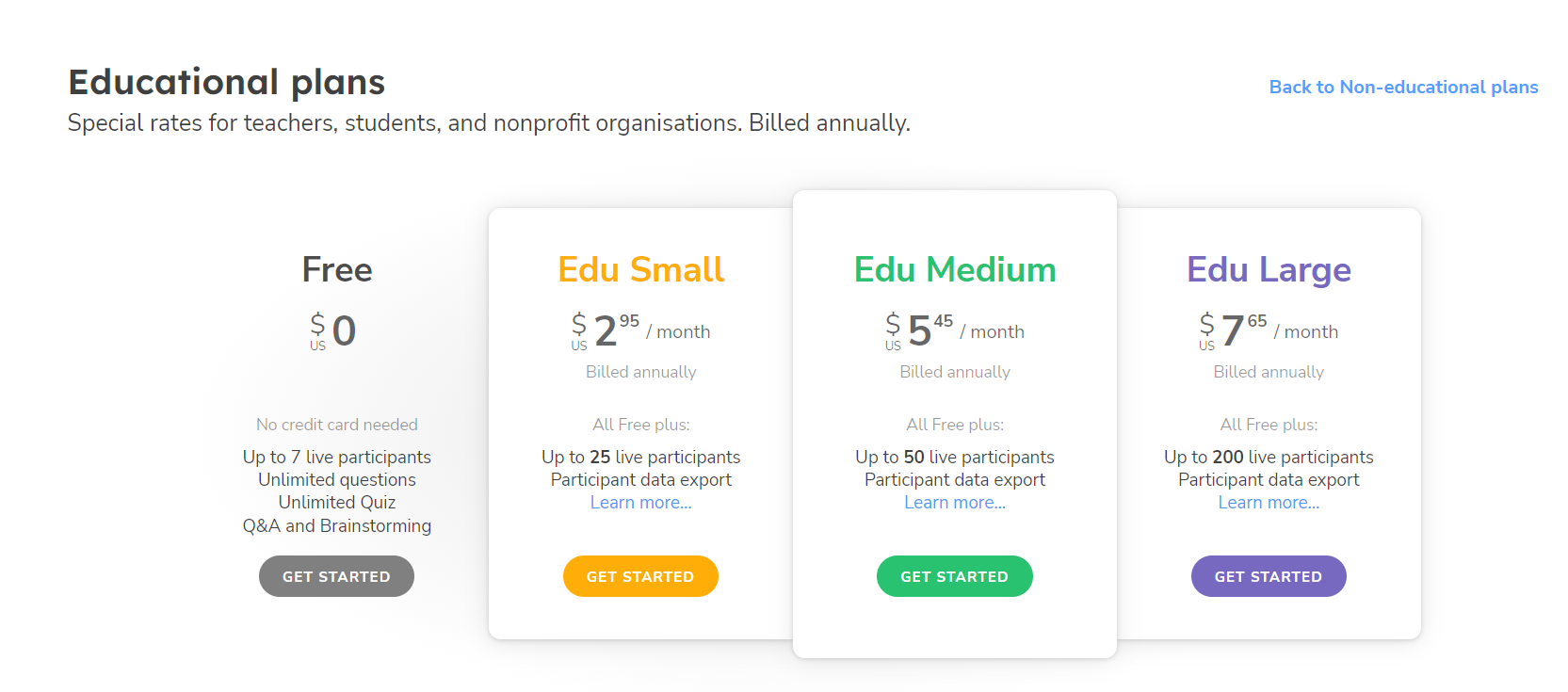 After purchasing an Edu plan, you can turn off auto-renewal right away using
this link
. You can also use the
'click here'
button on the 'My Plan' page to avoid being charged for your second year.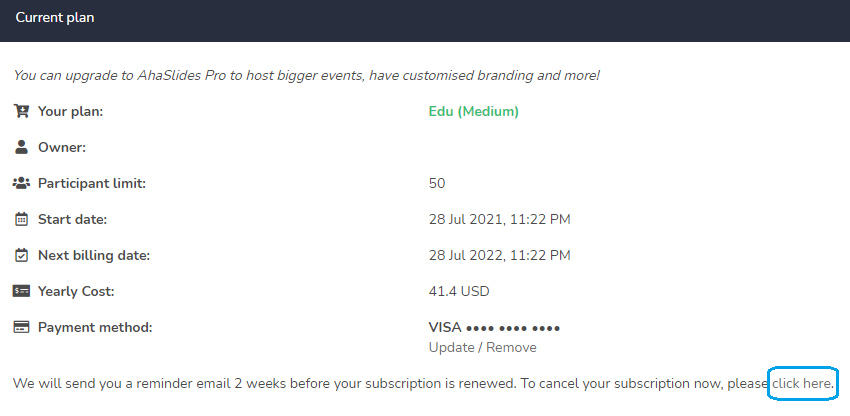 Want more information regarding different subscriptions? Visit our plans page.

Related Articles

Cancelling your AhaSlides Subscription

Find out how to turn off the auto-renewal of your subscription. The Monthly plan will renew automatically after 1 month. We will send you a reminder email 2 weeks before your subscription is renewed. You can turn off auto-renewal anytime on ...

Annual Subscriptions

The best value for money plans. Save from 67%. AhaSlides Annual plan (also known as the Yearly plan) is the most economical plan for an entire year of interactive and engaging experiences with your audiences. It has the best value-for-money plans, ...

Monthly Subscriptions

A Monthly plan is an AhaSlides plan that is auto-renewed every month. If you want to use a monthly plan for just one month, you can buy the plan and then turn off auto-renewal. To see all available Monthly plans, please check out the 'Monthly' tab on ...

What is Included in the Free Account?

AhaSlides is free for as long as you like. Find out what's included and trial most of the features, for free! If you sign up to an AhaSlides free plan, you'll have access to the following features: Unlimited question and quiz slides - You can create ...

What Payment Methods are Accepted at AhaSlides?

AhaSlides accepts debit cards, credit cards and PayPal. For debit cards and credit cards, the upgrade process is automatic and happens with immediate effect. Your payment is handled securely by Stripe - our global trusted payment partner.