Sharing Images with Open-Ended slide
Participants can now share images with Open-ended slides on AhaSlides.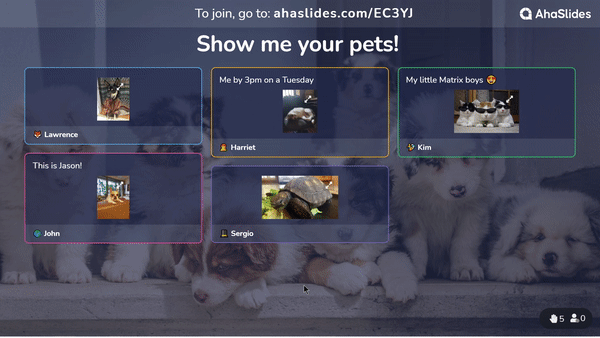 After creating your Open-Ended slide, you can check the box Allow audience to submit images to allow participants to share images with you.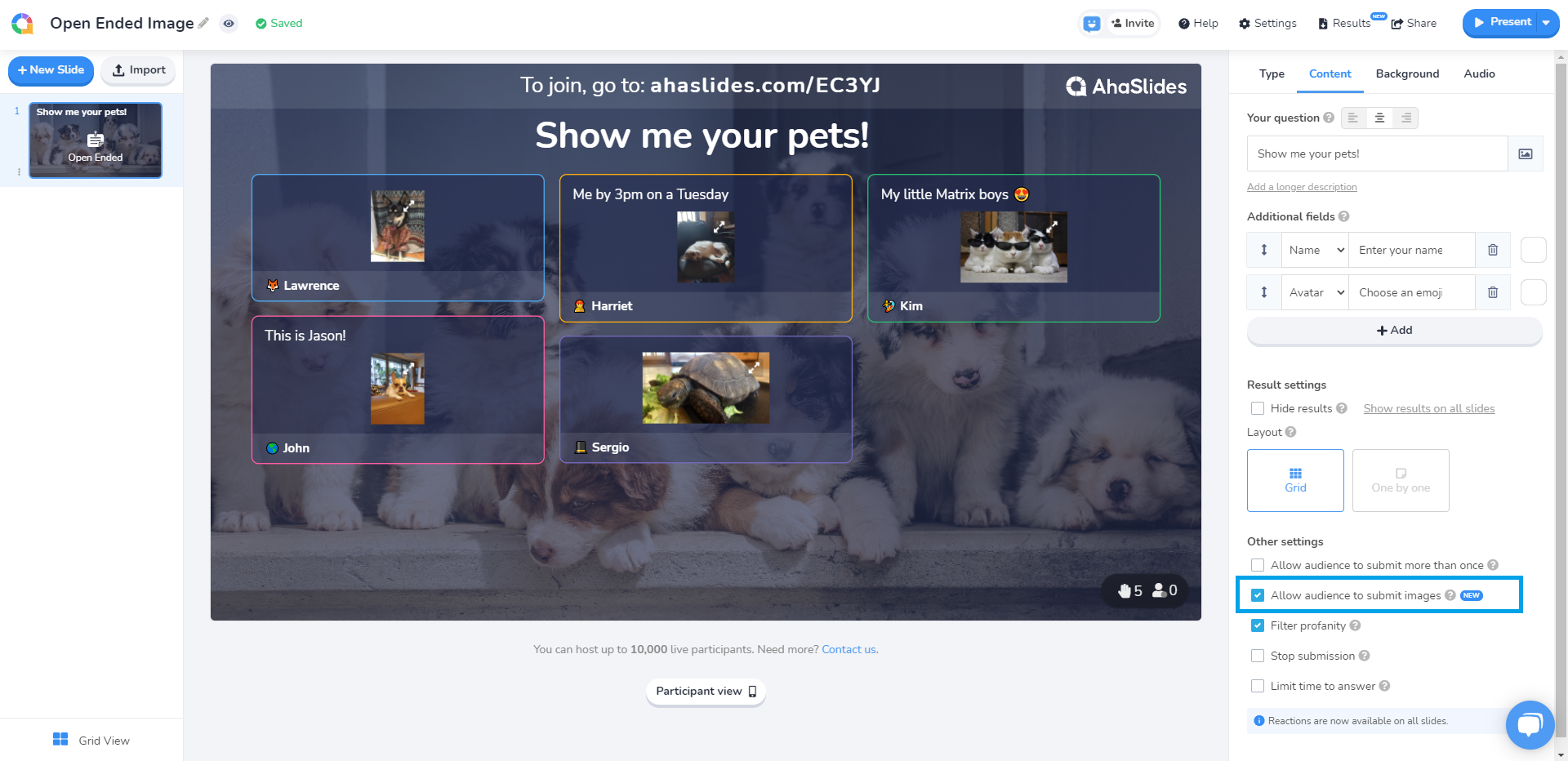 In your participants' screen, there's an Upload image... button. Clicking on it will let your participants reply to your question with an image from their phone library, or by taking a new image on their phone camera.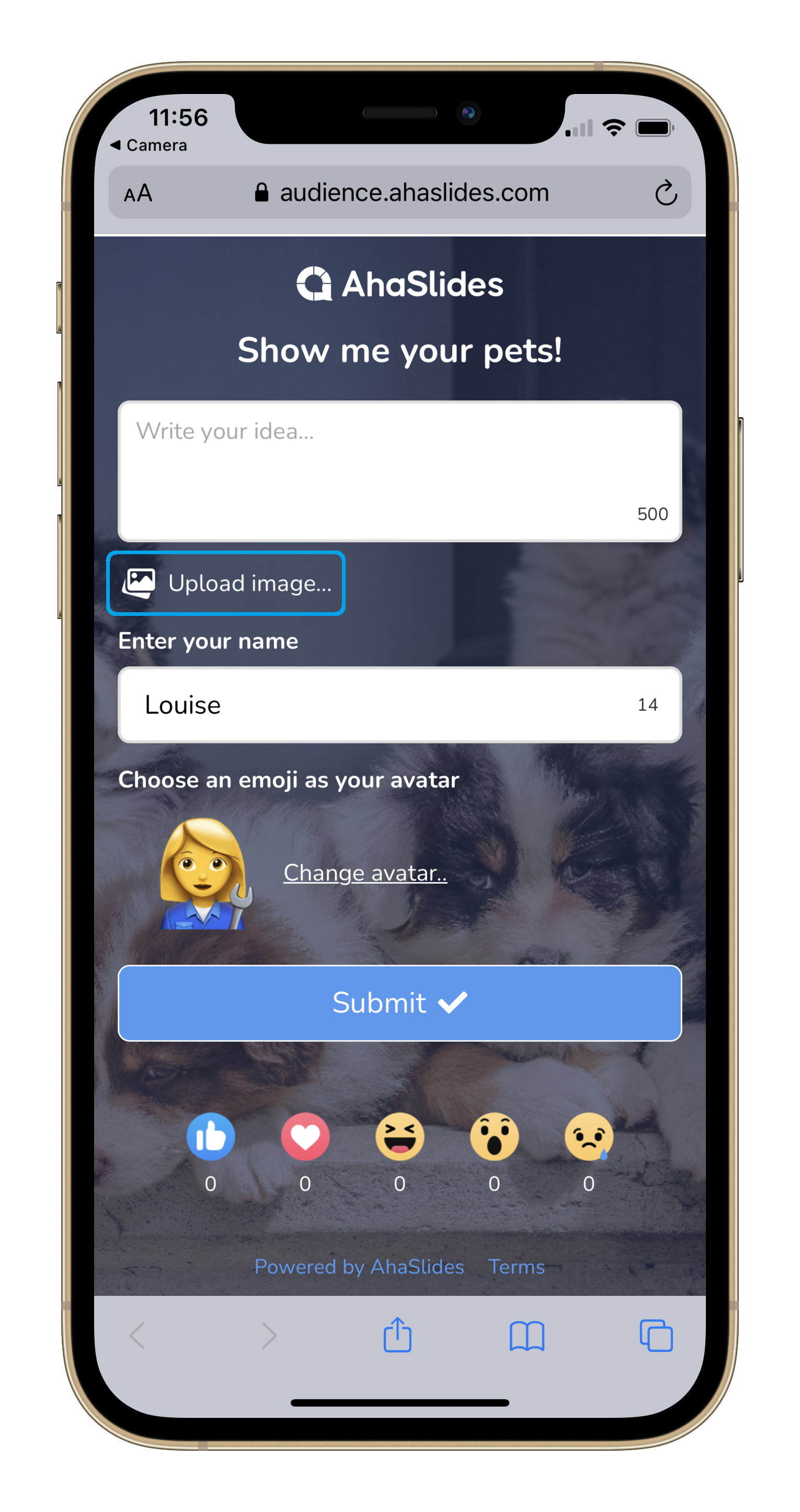 Related Articles

How to manually censor responses on Open Ended & Word Cloud slides

Find out how to remove participants' responses in Word Cloud slide and Open Ended slide. 1. Remove submissions in a Word Cloud slide In Word Cloud slide, click on the word that you want to remove to remove it. 2. Remove submissions in an Open-Ended ...

Screen sharing on AhaSlides

AhaSlides works with platform that has a share screen function so AhaSlides would absolutely work well with any platform like Zoom/Microsoft Teams/Google Meet. The presenter can share screen through Zoom/Microsoft Teams/Google Meet to show the ...

Using AhaSlides with Zoom

Using AhaSlides with Zoom is simple. Here's how. Create or open a presentation on AhaSlides that you want to present. Host or join a Zoom meeting on zoom.com. Click the 'share screen' button in the Zoom meeting controls. Select the browser in which ...

Using AhaSlides with Microsoft Teams

Learn how to screen sharing AhaSlides to everyone else in the video conference through Microsoft Teams How to share your AhaSlides screen on Microsoft Teams: 1. Open the Microsoft Teams app, sign in if prompted, and join a meeting. 2. Click on the ...

Sharing your Presentation to your Participants

There are 2 main ways to share your presentation with your audience. 1. The first way is through the unique access link (or 'access code') that each presentation has. In order to find it and share it... Head to the Share tab in the top bar of the ...