The Q&A feature lets you gather questions from your audience. You can then organise all these questions and answer them all one-by-one.

Check out this video for a 1-minute explainer on how to set up a live Q&A 👇

How Does Q&A Work?

On AhaSlides, 'Q&A' refers your audience sending you questions during a presentation, you seeing those questions and then answering them vocally.

There are 2 ways in which you can hold a Q&A with your audience...

#1 - The Q&A Slide

If you want questions from your audience to come at a certain time in your presentation, you can set up a Q&A slide to gather those questions and address them on-by one. Participants will only be able to send you Q&A questions while you're presenting this slide.

To set this up, simply press 'New Slide' and select the Q&A slide as your slide type.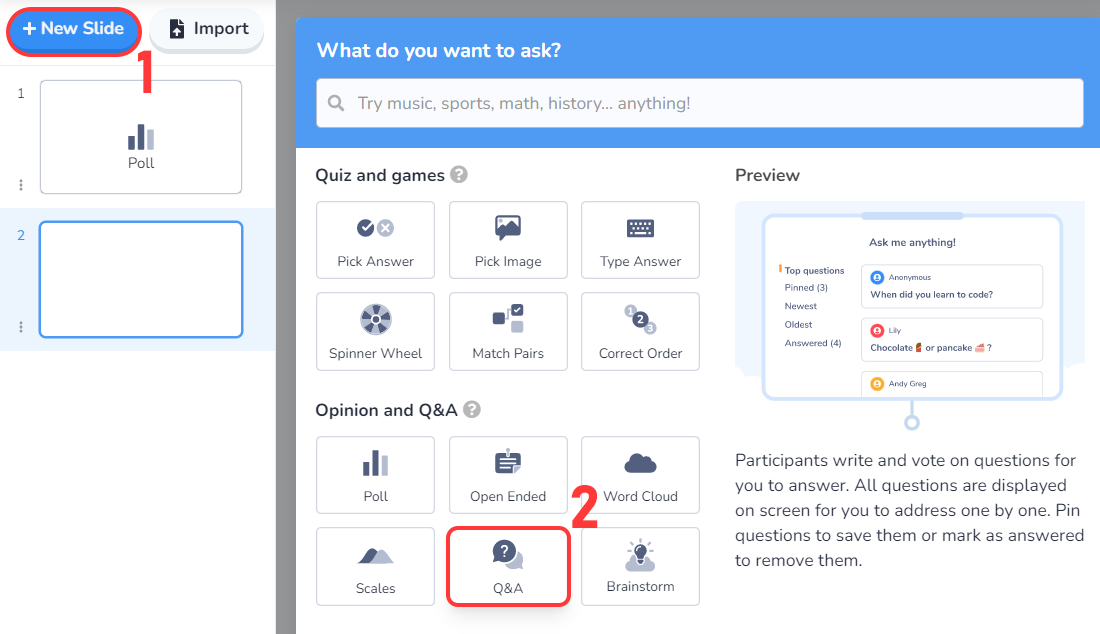 After that, all you have to do is add a heading for the slide and choose some of the settings (see an explanation for each setting below).
#2 - On all Slides

If you want your audience to send you questions whenever they think of them, not just on a dedicated Q&A slide, you can arrange that in your presentation settings.
Participants can send you questions on any slide in your presentation by clicking the button at the bottom of their screen that says
'Ask a question'
.
If you select this option, you will see a counter of all unanswered questions that have been submitted during your presentation.

To see and answer those questions right away, click on that counter. The Q&A interface will pop up and you can begin to organise and answer questions the same way you do on a Q&A slide.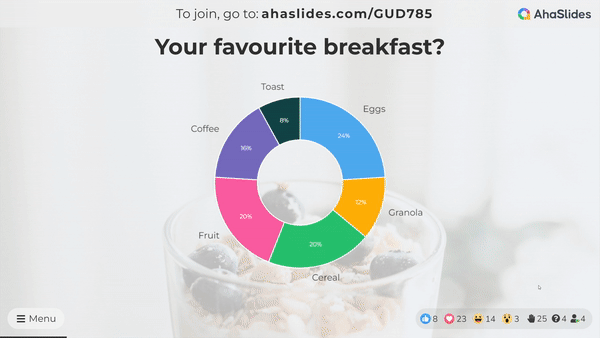 To set this up, click '
Settings
' in the top toolbar, followed by '
Q&A with your audience
'. Under the heading '
When can the audience send you questions?
', select
'On all slides'
. From here you can also change all of the settings for your Q&A
(see an explanation for each setting below).

It's possible to select the 'On all slides' setting and have a dedicated Q&A slide at the same time. This way, your audience can send you questions throughout your presentation and you can address them all when you reach the slide.
How to Arrange Q&A Questions
When you open up the Q&A interface, you will see any unanswered questions in the centre and a column of 5 filters on the left. The filter you choose will affect the order in which you see the questions in the centre of the interface. Those filters are...

Top questions - Arrange questions by popularity. Your audience can upvote any question and this filter will place questions from most upvoted to least. This is the default filter for your Q&A.


Pinned - See just the questions you've 'pinned'. You can hover over any question and click the button labelled 'Pin', which will not only put the question under the 'Pinned' filter, but will also stick that question to the top of the 'Top questions' filter.


Newest - All questions arranged from most recently submitted to least recently submitted.


Oldest - All questions arranged from least recently submitted to most recently submitted.


Answered - All the questions you've 'marked as answered'. Once you're done answering a question, you can mark it as answered by hovering over it on the interface and clicking the button labelled 'mark as answered'.

Q&A Settings

Regardless of whether you hold your Q&A on all slides or only on Q&A slides, you will be able to change the same settings. You can either find these settings in the 'Content' tab of the Q&A slide, or in 'Settings' > 'Q&A with your Audience'.

#1 - Filter profanity

#2 - Moderate audience's questions

You can use the moderation feature to approve and dismiss questions from your audience before they are submitted to your Q&A slide.

Turning this feature on will provide you with a link to moderation mode, which you can open in a different tab, or a dedicated moderator can open on their own computer, to filter incoming questions from your audience.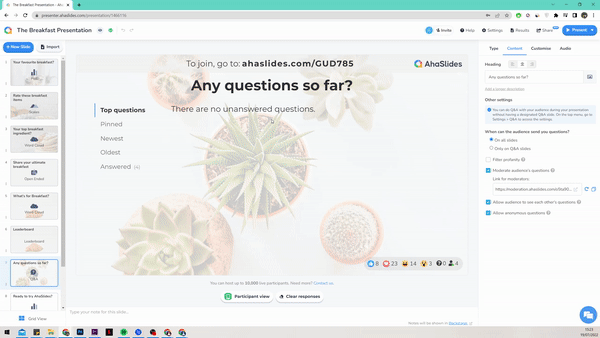 Simply click the 'Approve' button on the right-hand side to allow the question through to your presentation. Click the 'Dismiss' button to erase it.

Once approved or dismissed, each question will be moved under the 'approved' or 'dismissed' categories on moderation mode. If you made a mistake, you can find the question in either the 'approved' or 'dismissed' category and click the button to move it back to the 'pending' category.

#3 - Allow audience to see each other's questions
Turning on this setting will mean that each audience member will be able to see all submitted questions on their own devices, as well as on the presenter's screen.

Turning on this setting will give each audience member the chance to submit their question without entering their name. The box to enter their name will be there, but it won't be mandatory to fill it in.