The Correct Order quiz slide asks participants to place randomised statements in the correct order.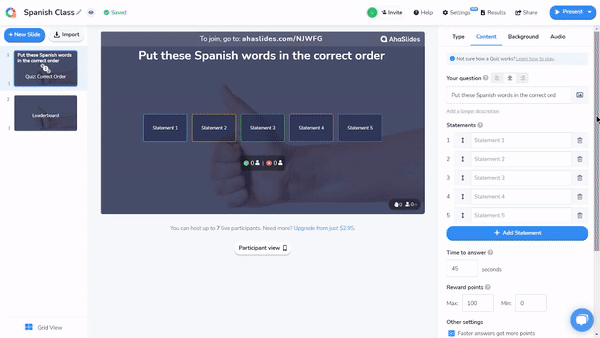 How does a Correct Order Slide work?
A Correct Order slide is a quiz slide type and forms part of a quiz.
On a Correct Order slide, players are presented with a question, as well as a column of statements. Players have the time limit you give them in order to arrange all statements in the correct order.
On the player's screen, they can drag and drop each statement into the correct order and press the submit button when finished.
💡 Remember to 'submit'
If a player doesn't press the submit button before the time is up, even if all statements are in the correct order, they will receive 0 points.
Setting up your Correct Order Slide:
On the AhaSlides editor, choose the Correct Order slide from the 'Quiz and games' section and do the following...
Write your question (or the instructions for your players)
Enter your statements. Once written, they will be placed in random order on the slide.


You can add up to 7 statements per slide. Note that your participants will have to arrange all answers in the correct order to receive points.





Change the settings: