Step 3: Joining a Quiz
When you have created your quiz slides, you can either invite your players to join your presentation, or you can join it yourself on your phone to test it out (which we recommend).
To start, press the blue 'Present' button in the top-right corner of the editor. This will take you into presentation mode.


There are two ways that players can join your presentation from here:
By entering the unique URL code of your presentation, found at the top of each slide, into their phone browsers.
By scanning the QR code, found when you click the top bar of a slide, with their phone camera.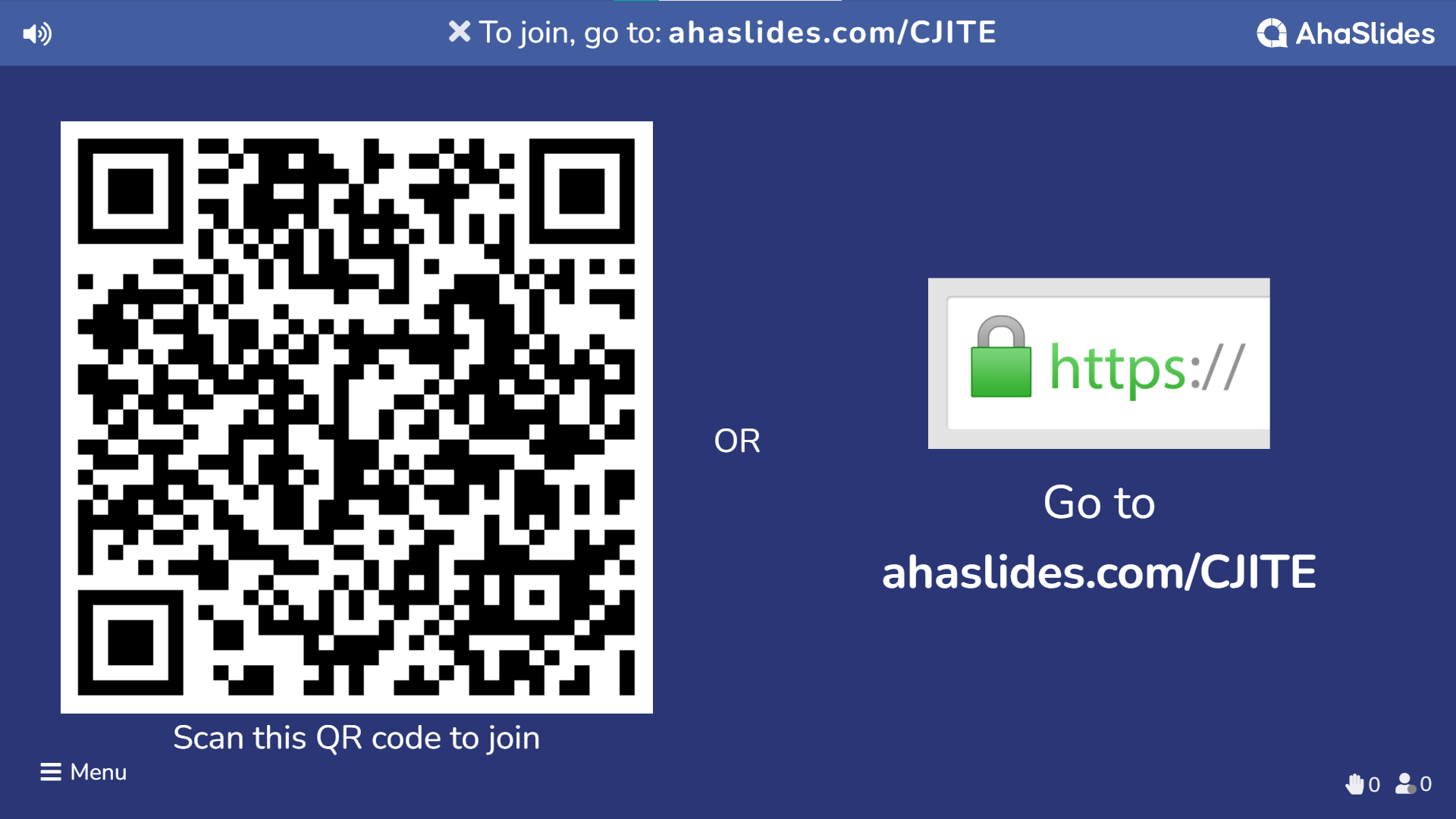 When a new player has joined your presentation, the live participant counter in the bottom-right corner will increase by 1.
👉 Important
If a player joins the presentation while the host is presenting a non-quiz slide (like a poll, heading or content slide), then that player has not yet joined the quiz.
To join the quiz, the host needs to present a quiz slide. When they do...
The host will see the lobby on their screen. This is where they can see all the players who have joined the quiz.
The player will be asked to enter their name and choose an avatar for the quiz. Once they have chosen, they will be shown in the quiz lobby.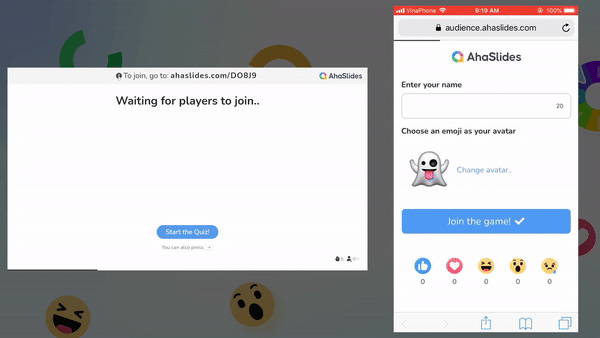 You can test your quiz beforehand
💡 To do this, you can use
Preview Mode
(which we highly recommend before running a quiz).

Step 4: Presenting a Quiz
When all your players have joined the quiz and are showing in the quiz lobby, you can press the blue button below that says 'Start the Quiz!'
Your first question will show on your screen and each player's phone screens. Players will have the time limit you specified in the settings to answer the question.
Proceed through your quiz like this until the final winner is announced at the end!
📊 Quiz Report
Once you've finished presenting your quiz, you can check your presentation report to see how well your players did.
Find the report by clicking 'Results' in the top toolbar, then the 'View More' button underneath your engagement rate.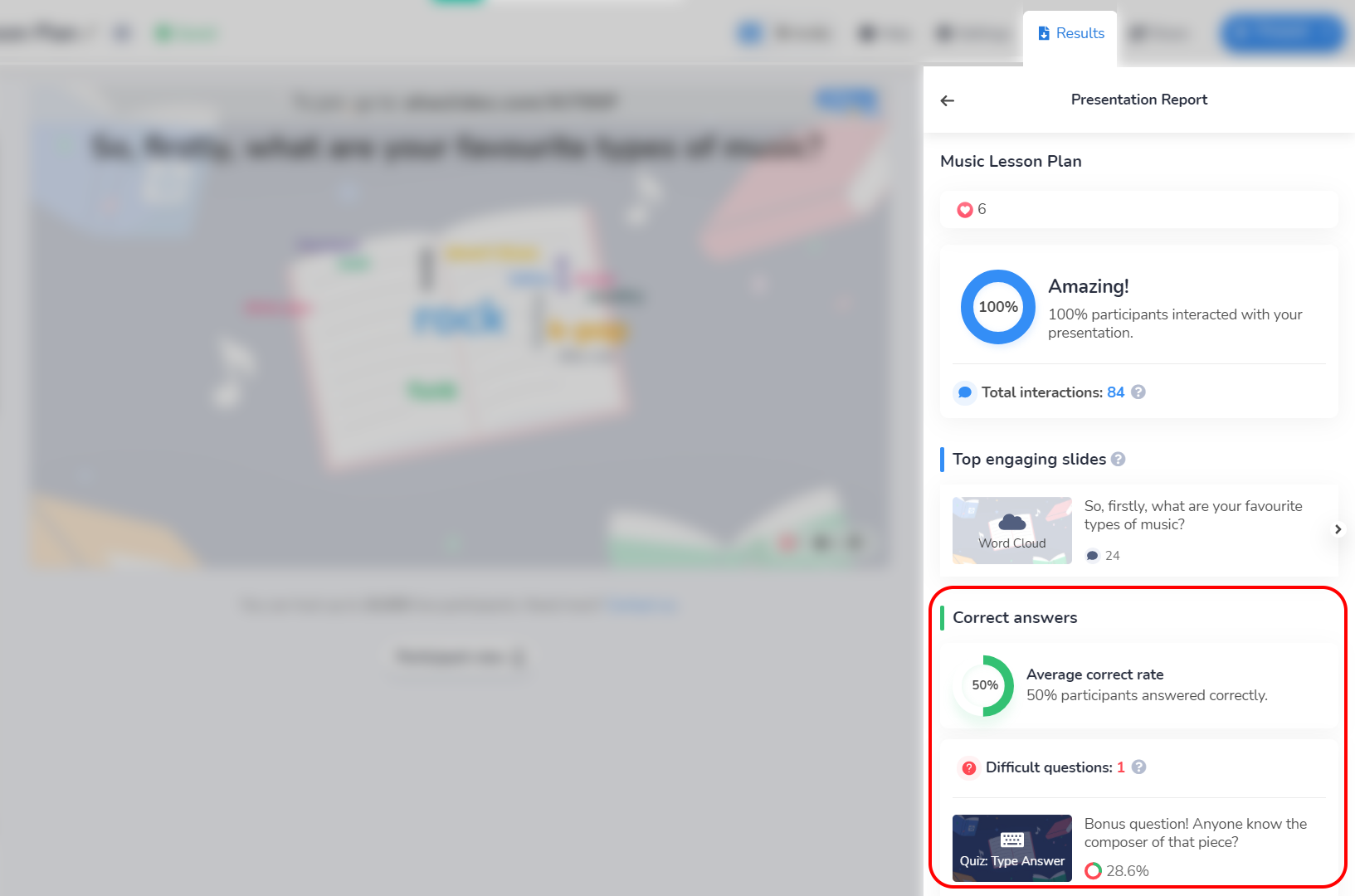 There are 2 quiz-specific metrics in the report:
Correct answers: This will tell you how many answers were correct out of all the answers submitted throughout your quiz.
Difficult questions: These are all the questions that got a less than 40% correct rate.
Other Settings for Quizzes

Aside from the settings you can make on each slide (see step 2 for more details), you can also change the general settings for the whole quiz. These settings can be found by navigating to 'Settings' in the top bar, followed by 'Quiz settings' or 'Who takes the lead'.
Lobby Chat
While waiting on the lobby screen, you can allow players to talk to each via a live chat box. You can also use this box as the presenter to send messages to your players.
When a player sends a message, their name, avatar and team will show before their message. The chat box also announces when a player has entered and left the lobby.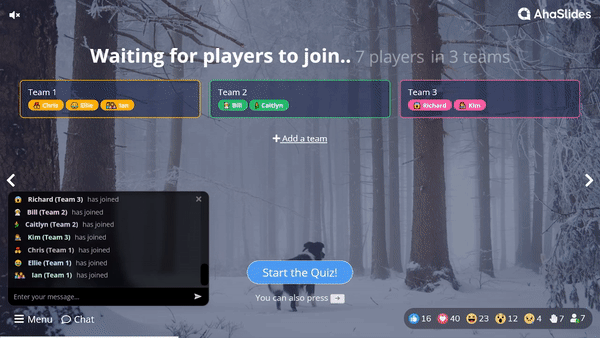 5-Second Countdown
By default, each question is preceded by a 5-second countdown timer, in order to give your players time to read the question before they can answer.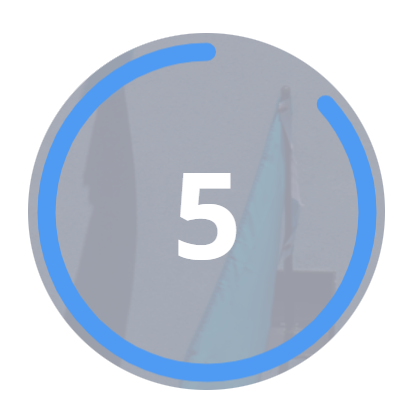 To turn this setting off, navigate to the top toolbar of the editor and click 'Settings', followed by 'Quiz Settings'.
Here you can uncheck the box labelled 'Enable 5 second countdown before participants can answer'.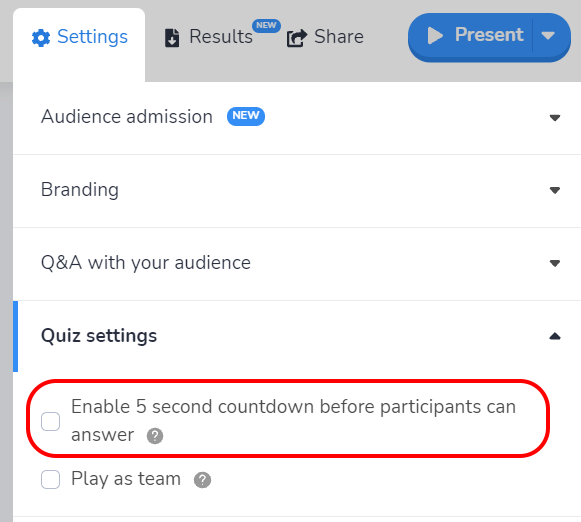 Background Music
You can enable or disable background music that plays on the lobby screen and on leaderboard slides. This music is set instrumental music chosen by AhaSlides, and is not customisable.
If enabled, the music will play automatically when you enter a lobby screen or leaderboard slide. You can disable the music directly on the slide by pressing the speaker icon in the top left corner.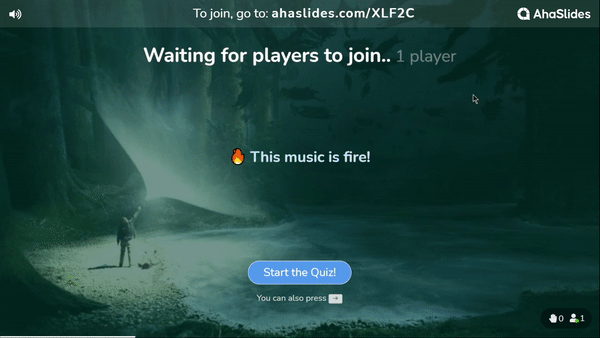 On a leaderboard slide, a short jingle will play while the leaderboard is rearranging itself to show the new standings. On the final leaderboard slide, a different, more triumphant jingle will play to announce the winner of the quiz.
Team Quizzes

Players can play the quiz in teams, rather than individuals.
To set this up, navigate to the top toolbar of the editor and click 'Settings', followed by 'Quiz Settings'.
Here you can check the box labelled 'Play as teams'. Once you've done that, a button will appear inviting you to 'Set up' your teams.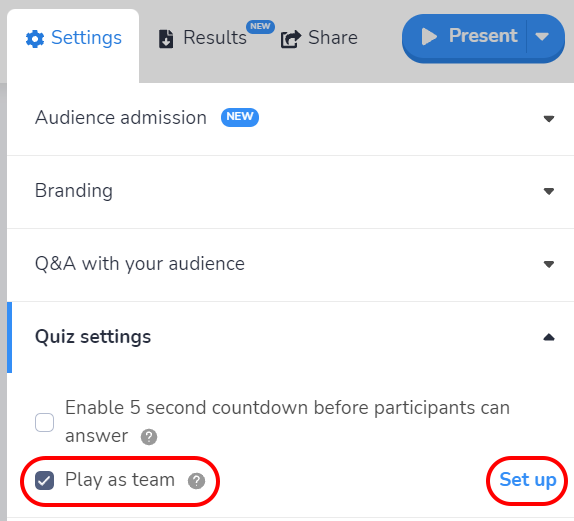 When you click the 'Set up' button, you will be taken to the 'Team Set Up' menu, where you can do the following...
Choose the number of teams that will be playing in your quiz.
Choose the team size - the maximum number of players in each team.

Choose the team scoring rules...


The system takes the average score of all team members, including a score of 0 for anyone who didn't answer or answered incorrectly.
The system takes the total score of all team members (this can be a disadvantage for teams with fewer members).
The system takes the fastest submitted answer from anyone on the team. This can be a score of 0 if the fastest answer submitted is incorrect.

Create the names for each team.
When players are joining the quiz, in addition to their name and avatar, they will be asked to select a team.
On leaderboard slides, the teams' scores will be shown. You can also click the button labelled 'Show Individual Ranking' to reveal the individual scores of each player in the quiz: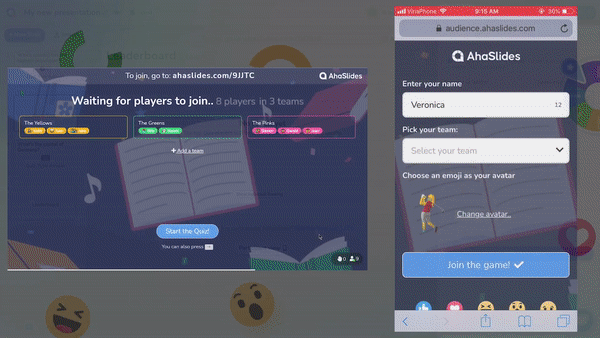 Audience-Paced Quizzes

You can also let your players play a quiz without a host.
This is great for teachers who want to assign a quiz as homework, or for quiz masters who want to give their players freedom to complete a quiz at a time that suits them.
To set this up, navigate to the top toolbar of the editor and click 'Settings', followed by 'Who takes the lead'.
Select 'Audience (self-paced)'.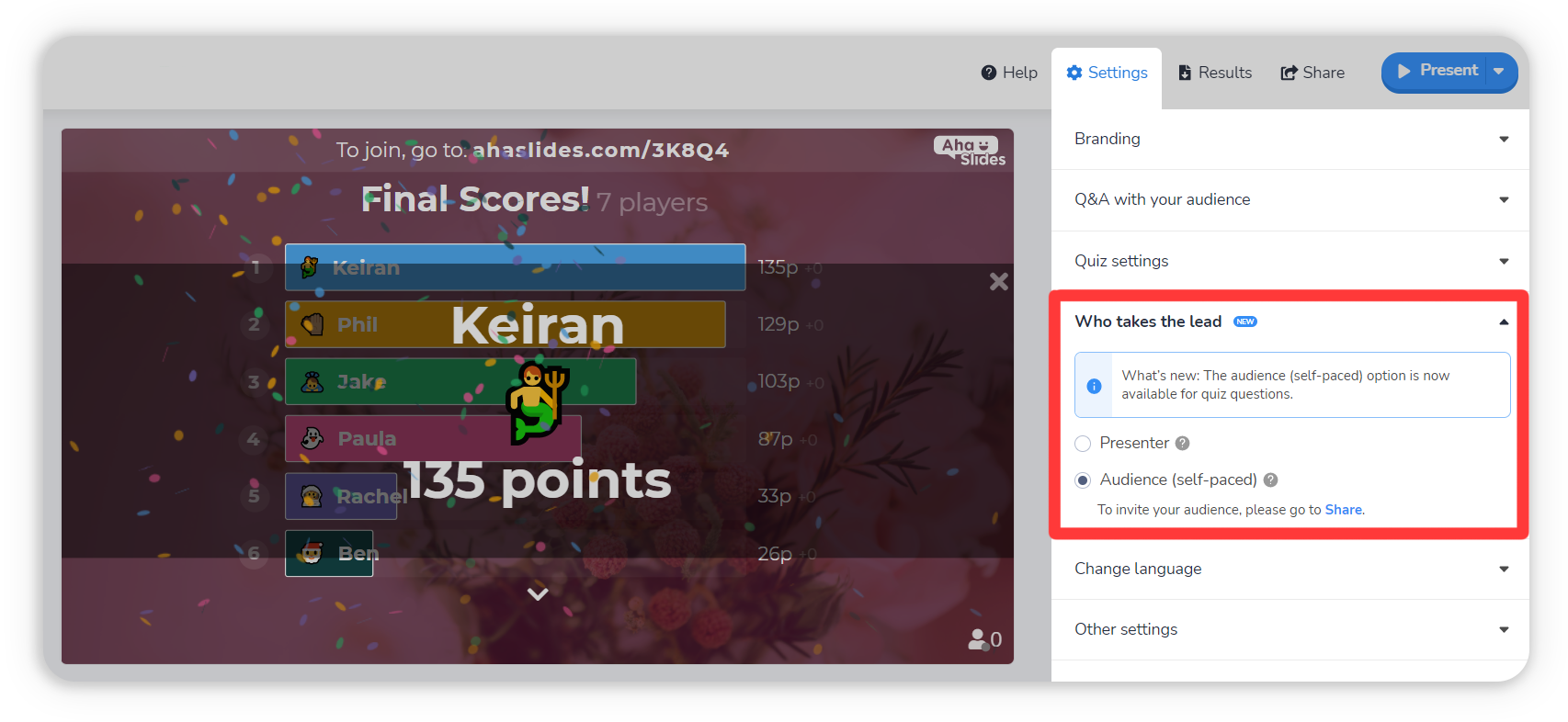 Now, your players will proceed through each question on their own. On leaderboard slides, they'll see their ranking against the rankings of every player who's already played the quiz.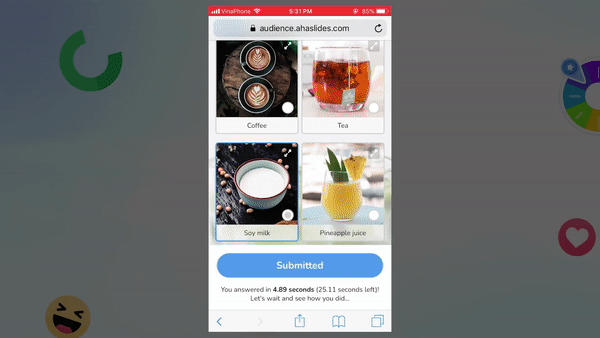 FAQ
1. Why isn't my quiz asking players for their names?
Usually, your quiz isn't asking players to fill out their name for one of two reasons:
You may have chosen a 'poll' slide instead of a 'pick answer' slide. These slides look very similar, but only the pick answer slide is a quiz slide, so only the pick answer slide will ask players for their names while you're presenting the slide. (See here for more).
You may be presenting any other non-quiz slide. If your players join your presentation when you're presenting a heading, list, image or any other non-quiz slide type, it will not ask for their names. Once you move onto the first quiz slide of your quiz, your players will be asked for their names. (See here for more).
2. How can I clear player answers on my quiz?
If you've just tested your quiz with a real device, want to reuse a quiz, or made a mistake and want to start a quiz over, you can clear any answers submitted to your quiz, all without affecting the content of your quiz.
3. How can I test my quiz?
The best way to test a quiz is by using Preview Mode. This is a test mode where you can try out your quiz from both the presenter screen and the player screen.

You can also test out a quiz
by simply joining it on your own phone, or getting some friends to join it, then playing along as if it were a real quiz. If you use this method,
remember to
clear your own answers
after you've tested your quiz.