You can add entries to the spinner wheel by writing directly on the slide in the centre column of the editor. Write in an entry under 25 characters and click the 'add' button.
Protip 💡 You can also add entries to your spinner wheel this way while presenting.

#2 - Autofill Entries with Participants' Names

You may want to use the spinner wheel to select your presentation's participants at random. If that's the case, you can autofill these entries to the wheel by getting each participant to enter their own name.

In the right-hand column, under the title 'Autofill entries with...', you can check the box labelled 'Participants' names'.
With this box checked, when participants reach this slide, they will be prompted for their names and an avatar, the same way they are in a quiz.

If you had any quiz slide before your spinner wheel slide, then checking the '
Participants' names
' box will automatically fill in the names of your quiz players - they won't need to write them again.

Protip
With a quick workaround, participants can put entries into the wheel themselves.
To set this up, create a
word cloud
slide and get your participants to submit their wheel entries into the cloud. Next, change the slide type from word cloud to spinner wheel; every submission from the word cloud will be automatically uploaded as entries in the wheel.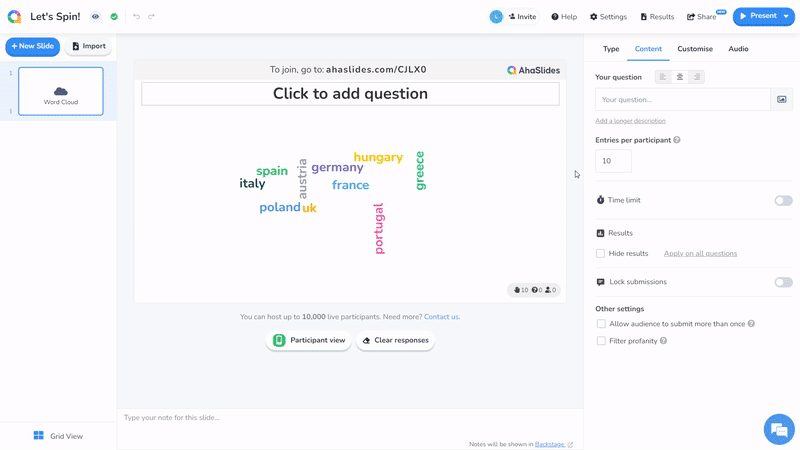 How to Remove Entries

There are 2 ways you can remove entries in the wheel. The right one depends on if you entered the entry manually or by autofill.

#1 - Remove Entries Manually

To remove a manual entry from the wheel, hover over the entry in the entry list and press the bin icon labelled 'Delete this entry'.
#2 - Remove and Update Autofilled Names

If you're using the wheel for participants' names, you may want to add or remove participants depending on who has joined and left the presentation since the last spin.

If the audience has changed at all since the last spin, then the names in the entry list will reflect the changes, and a button labelled 'Update Wheel' will appear.
Clicking this button will tell you exactly how many people have entered and left since the last spin and will ask you to confirm the update.

Spinning the Wheel
With all your desired entries in the wheel, simply press the button at the centre of the wheel to spin it. The chosen entry will be displayed on presenter and audience devices.