Please note that this feature is not compatible with the online version of PowerPoint (OneDrive)
Video: 1-Minute Explainer

How does it Work?

The AhaSlides add-in for PowerPoint allows you to add interactive slides made on AhaSlides into a PowerPoint presentation. Once the interactive slides are in the PowerPoint presentation, you can present it as you normally would. Once you reach your interactive slides, participants will join your presentation on their phones and submit their responses to the slide.


Note: This feature currently only works with the following slide types:

Poll

Word Cloud

Q&A

Spinner Wheel

Pick Answer

Pick Image

Leaderboard

We will be adding more slide types in the future!
How to Set it Up

Step 1: Download the AhaSlides Add-in

On your PowerPoint presentation, click Insert in the top toolbar, then the button labelled Get Add-Ins.

Note: Depending on the version of your PowerPoint, your interface might look slightly different to the example below.


Use the search bar to find 'AhaSlides', then click 'add'.

The AhaSlides add-in window will appear on your slide. You will need to delete the default PowerPoint blocks on your slide and stretch out the window to fit the width and height of the slide 👇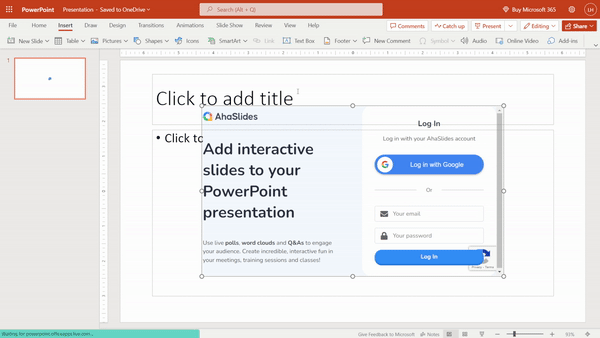 Log into your AhaSlides account the same way you would on AhaSlides.

Step 2: Import your Interactive Slide from AhaSlides

After logging in, you will see this message 👇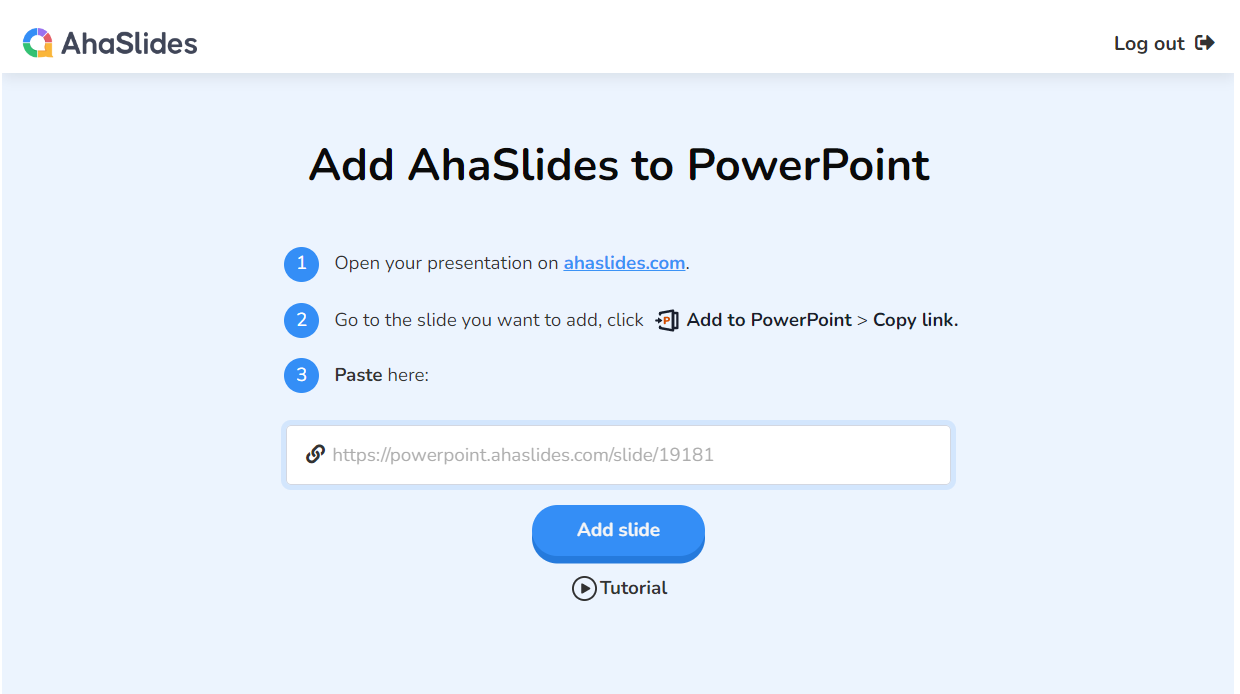 Click the ahaslides.com link to head to AhaSlides in a new tab. You will be directed to your My Presentations dashboard.

Here you can either...
Select a presentation containing the slide or slides you want to add to your PowerPoint presentation.


Create a new presentation and, within it, the slide or slides you want to add to your PowerPoint presentation.

When you select a slide that is compatible with the AhaSlides add-in, you will see a button labelled Add to PowerPoint.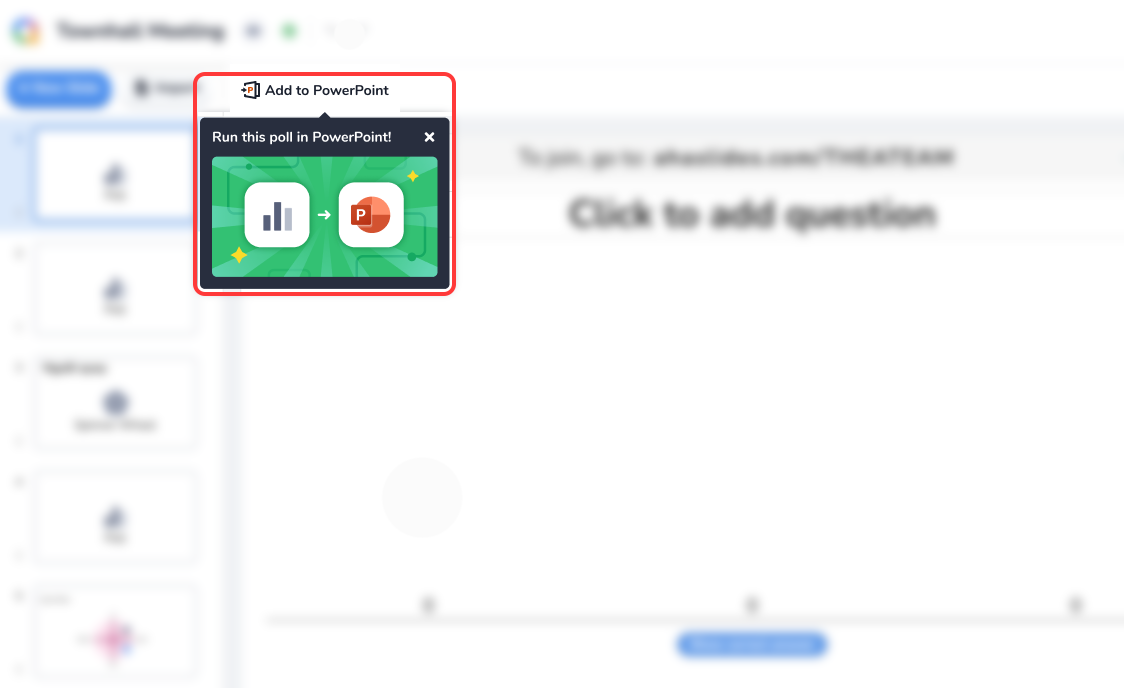 Clicking this button will open a pop-up 👇 Simply click the blue button labelled 'Copy link'.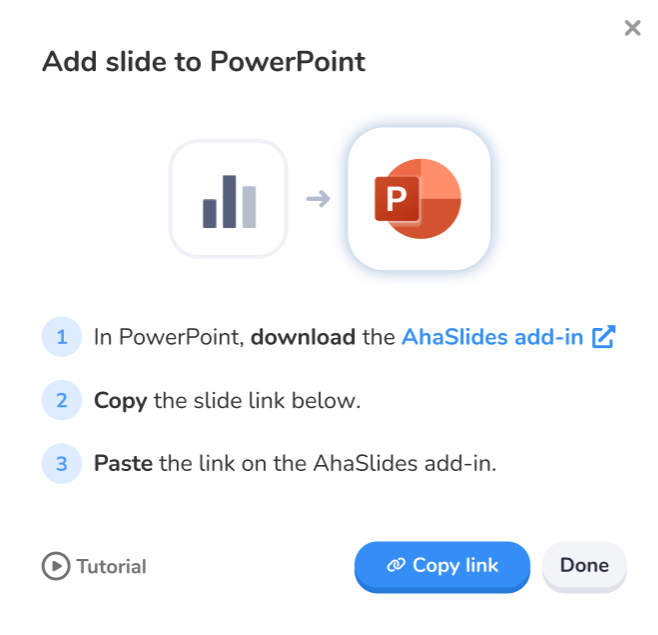 Step 3: Add your Slide

Return to your PowerPoint presentation and paste the slide link you just copied into the box. Then click 'Add slide'.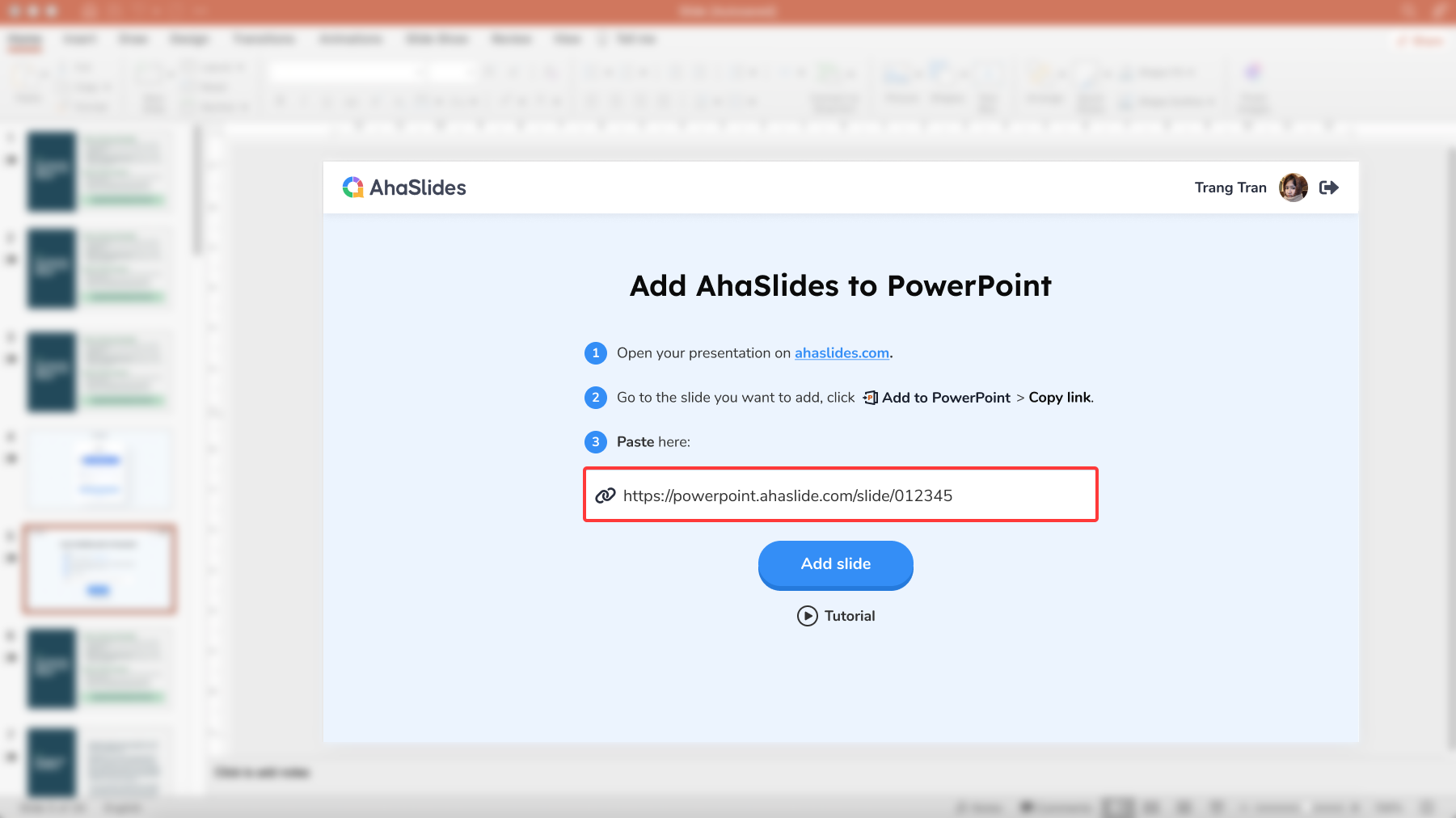 Your interactive slide will upload here and will be ready for use with your audience!

Adding Leaderboards 🏆

If you have added a quiz slide to PowerPoint and want to show the score in your quiz, you will need to manually add a leaderboard.

You can do this in the same way as the other slides 👇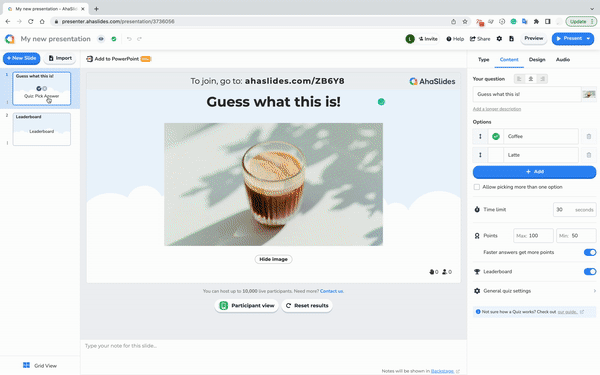 Even without a leaderboard, your quiz will still work on PowerPoint, but scores will not be shown and a winner will not be announced.
Replacing and Reloading Slides

Clicking the 'Menu' option in the lower left corner of the AhaSlides add-in will open a side panel with two options within - Replace Slide and Reload.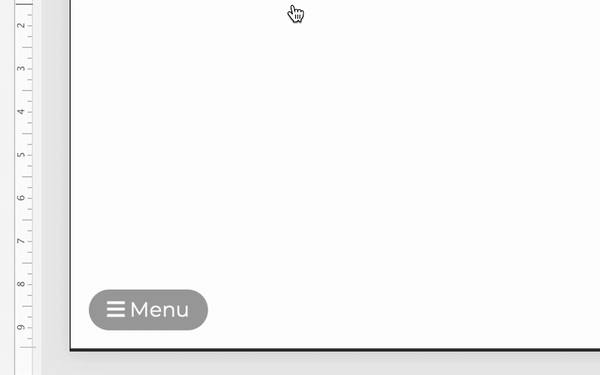 #1 - Replace Slide

This allows you to change the slide link connected to your slide in the PowerPoint add-in. Use this if you would like to swap your slide for another slide.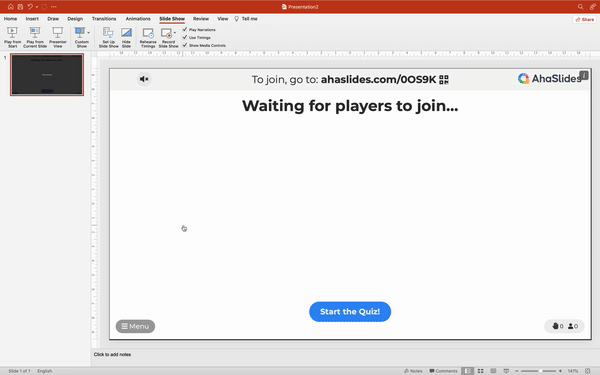 #2 - Reload Slide
If you've made any changes to your original slide on AhaSlides, you can press Reload Slide to update those changes on PowerPoint.


Presenting your Interactive Slides in PowerPoint
Your interactive slides will work exactly as they do on AhaSlides.

You can present your PowerPoint presentation as normal, then when you reach your interactive slide, you can invite your audience to
join the presentation
through the URL or QR code at the top of your slide. If all interactive slides in your PowerPoint are from the same AhaSlides presentation, then your audience will only need to join for the first interactive slide.
As in AhaSlides, the audience's responses will show up in real-time on your slide.