Asking Participants for their Names
If you have a quiz and games slide (either a 'Pick Answer', 'Pick Image', 'Type Answer', 'Spinner Wheel', 'Match Pairs' and 'Correct Order' slide type), then AhaSlides will ask the audience to enter their names when you start the presentation.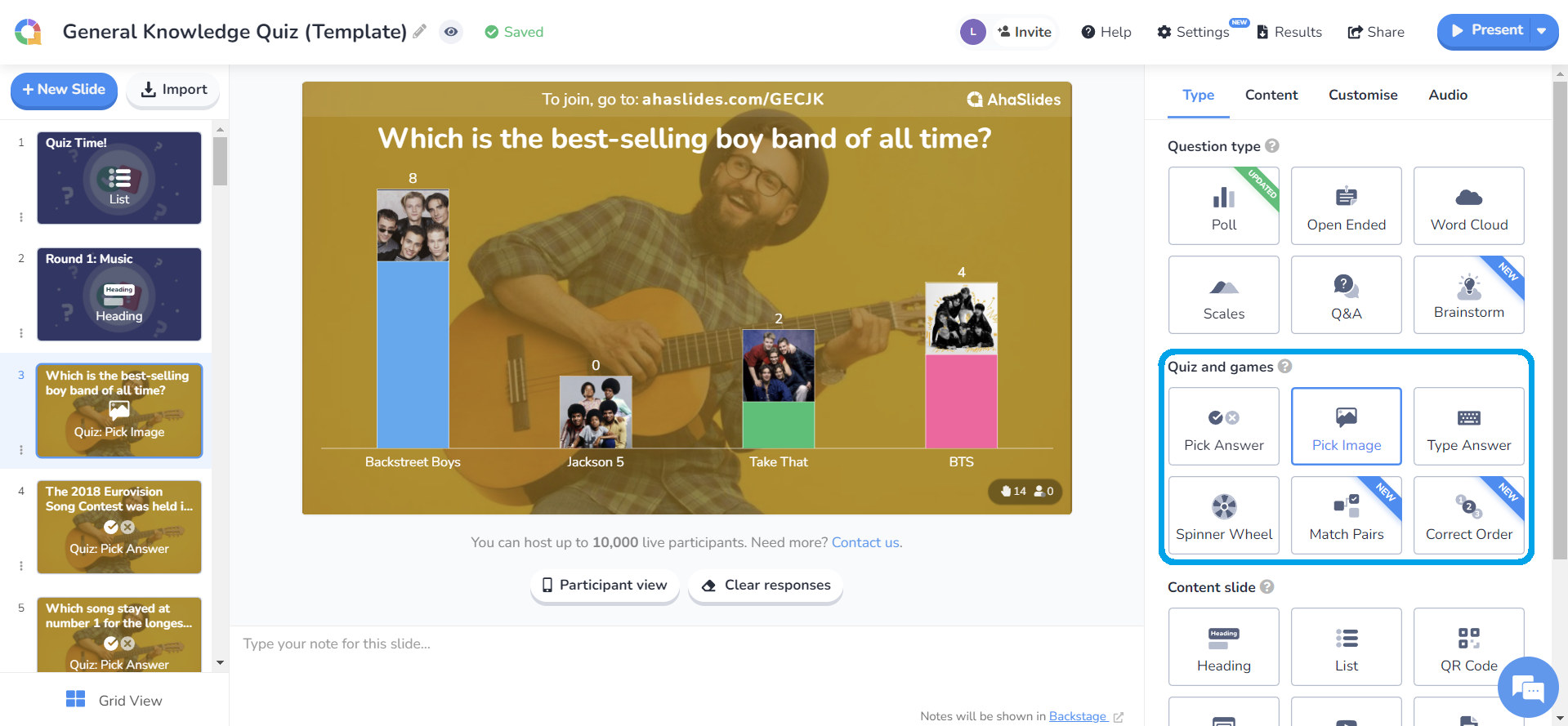 Please note that
you can only ask for names on a quiz slide
, not if you're using question type slides such as 'poll' or 'open ended' or 'word cloud' slides.
Related Articles

How to Make and Run a Quiz

Learn everything about creating and hosting a live quiz for your audience. Video: How to Make a Live Quiz on AhaSlides This video explains how to make a live quiz, including everything in this article. If you are looking for a specific part, please ...

Playing a Quiz in Teams on AhaSlides

AhaSlides' teamplay feature is perfect for competitive quizzes! To enable team play, simply go to 'Settings' > 'Quiz settings' > then check the box that says 'Play as team'. In 'Team Set Up', you can manage the number of teams and the team size. You ...

Creating a Poll question on AhaSlides

A poll slide is a quick and easy way to get live opinions in poll format from your audience. How does a Poll slide Work? In a poll, you ask a question and provide between 2 and 30 answer options. Your audience vote for one or more of the answer ...

Collecting Participants' Information

Audience admission lets you collect names, email addresses and other pieces of information from your participants. ? Please note that while this feature is available on all plans, only paid plans can see collected participant information in ...

How to Use the Type Answer Quiz Slide

Learn how to add to the challenge of your quiz by using a 'Type Answer' quiz question. What is the Type Answer slide? How to set up a Type Answer question The results display of a Type Answer slide Manually accepting answers What is the Type Answer ...